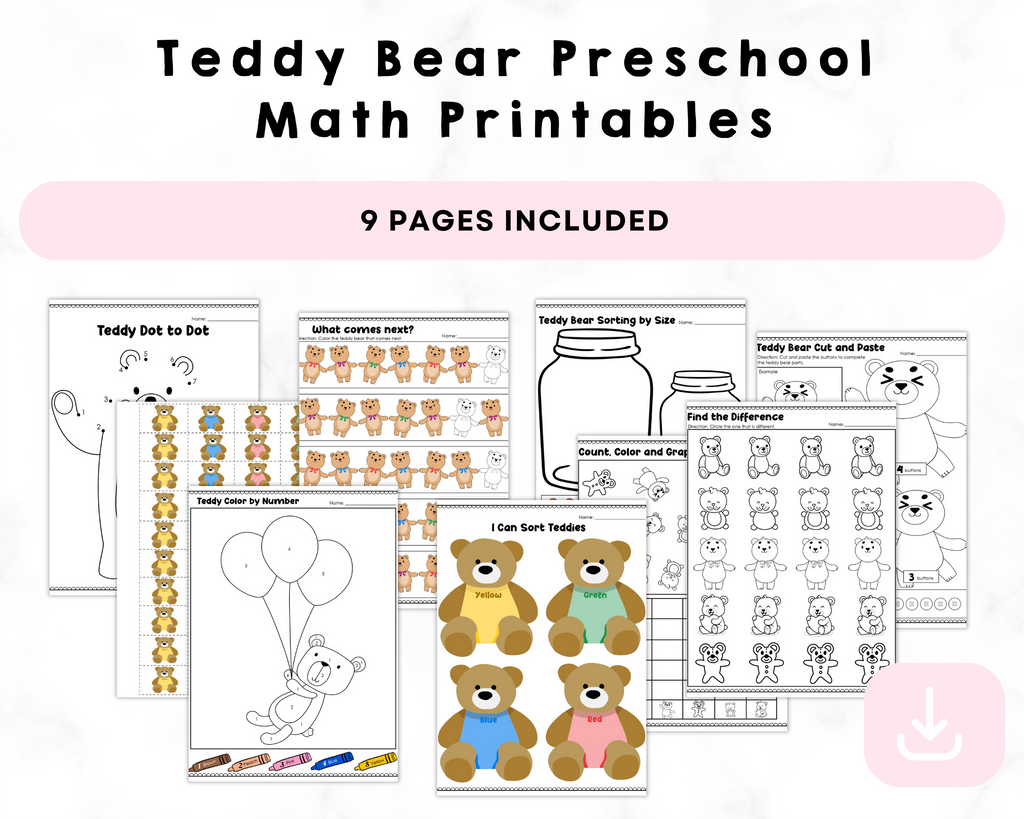 Teddy Bear Preschool Math Printables
Teddy Bear Preschool Math Printables
description
Introducing our delightful Teddy Bear Preschool Math Printables - a fantastic 9-page educational resource designed to make learning math a joyful adventure for your little ones! Packed with engaging activities like color by number, sequencing challenges, and teddy bear cut-and-paste fun, this set is perfect for fostering early math skills in an enjoyable and interactive way.

**Teddy Bear Color by Number**
Let your preschooler explore the world of colors while enhancing number recognition with this vibrant and charming color by number page. Watch as their teddy bears come to life with the perfect shades!

**Count and Match**
Challenge your little learners to count the adorable teddy bears and match them to the corresponding numbers. A playful way to reinforce number sense and counting skills.

**Sequencing Teddy Bears**
Encourage logical thinking and sequencing abilities with this entertaining activity. Your child will love arranging the teddy bears in the correct order, enhancing their understanding of numerical progression.

**Teddy Bear Cut and Paste**
Unleash creativity and fine motor skills as your preschooler carefully cuts out the teddy bear pieces and pastes them in the right places. It's an engaging activity that also helps in understanding shapes and spatial awareness.

**Teddy Bear Addition**
Introduce basic addition concepts in an enjoyable way as your child practices simple math by adding up the teddy bears. A wonderful start to arithmetic skills!


Our Teddy Bear Preschool Math Printables are carefully crafted to ignite a love for learning in your little one, all while fostering crucial early math skills. Make learning a bear-y fun experience with these engaging and adorable activities!

Please note: This is a digital product. No physical items will be shipped. After purchase, you will receive a link to download your printable pack.

Contact us
Crystal & Co.
P O Box 55263
Hurst, Texas 76054
crystalandcomp@yahoo.com
Sign up to our mailing list