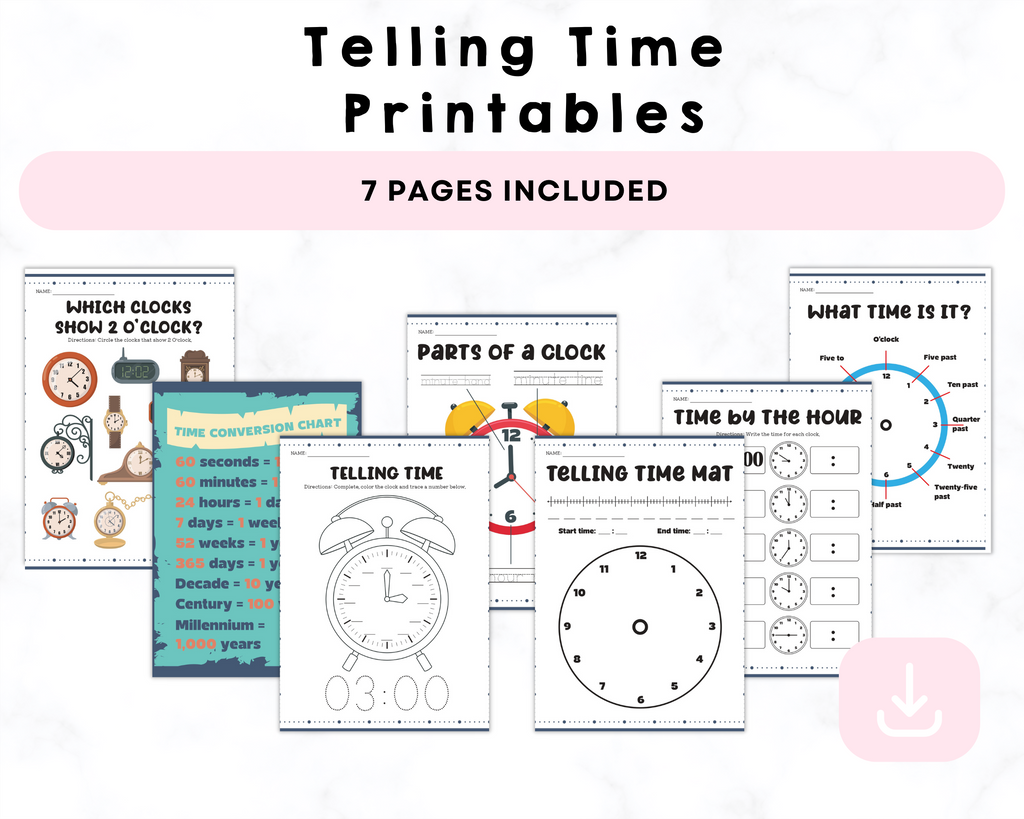 Telling Time Printables
Telling Time Printables
description
Introducing our comprehensive 7-page Telling Time Printables package, designed to make learning to tell time an enjoyable and educational experience for young learners. Perfect for teachers, homeschoolers, or parents looking to enhance their child's understanding of time, this set includes engaging activities for identifying time, word tracing, and understanding the different parts of a clock.

** Identifying Time**
- Help your child grasp the concept of time with clear and vibrant illustrations of analog clocks, encouraging them to recognize and identify different hours and minutes.

** Word Tracing**
- Enhance your child's literacy skills by tracing time-related words associated with different clock hours. The combination of visual and linguistic elements reinforces their understanding of time-related vocabulary.

** Identifying Parts of the Clock**
- Dive into the mechanics of a clock with detailed diagrams highlighting each part, such as the hour hand, minute hand, clock face, and numbers. Engage your child in identifying and labeling these essential components.

Our Telling Time Printables are carefully crafted to provide a well-rounded learning experience, nurturing essential skills in time-telling, language development, and clock understanding. Make learning time an exciting adventure with our engaging and educational 7-page Telling Time Printables package.

Please note: This is a digital product. No physical items will be shipped. After purchase, you will receive a link to download your printable pack.


Contact us
Crystal & Co.
P O Box 55263
Hurst, Texas 76054
crystalandcomp@yahoo.com
Sign up to our mailing list