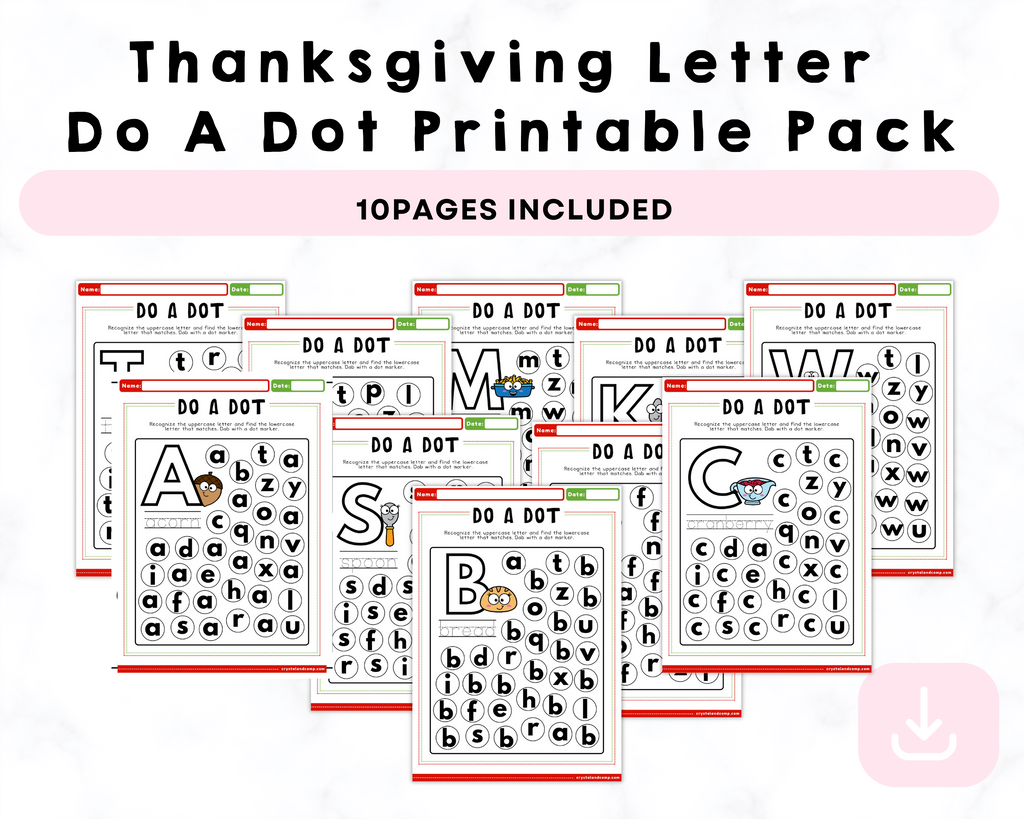 Thanksgiving Letter Do A Dot Printable Pack
Thanksgiving Letter Do A Dot Printable Pack
description
🦃🍁 Celebrate Thanksgiving with Our 10-Page Letter Do A Dot Printable Pack! Fun and Learning in Every Dot! 🖍️📝
Get ready for a festive learning adventure with our 10-page Thanksgiving Letter Do A Dot Printable Pack! Engaging and educational, these printables offer a delightful way for young learners to explore letters while embracing the Thanksgiving spirit.
🔤🖌️ What's Included?
Discover ten colorful pages featuring a variety of Thanksgiving-themed letters to dot! Each page showcases different letters of the alphabet, inviting children to practice letter recognition and fine motor skills in a cheerful Thanksgiving setting.
🦃🎨 Educational and Festive Adventures:
Letter Recognition: Engage in dotting letters from A to Z, reinforcing alphabet familiarity.
Fine Motor Skills: Enhance hand-eye coordination and dexterity with dotting activities.
Thanksgiving Fun: Enjoy a Thanksgiving-themed ambiance while learning and creating.
📚👧👦 How to Use:
These printables are designed to be a fun, mess-free activity suitable for home or classroom settings. Ideal for parents and educators looking to make learning letters an enjoyable experience during the Thanksgiving season.
🌟🍂 Perfect for Thanksgiving Learning:
Whether for holiday-themed lessons or festive at-home activities, our Thanksgiving Letter Do A Dot Printable Pack is the perfect addition to your Thanksgiving celebration, offering both educational value and holiday cheer.
🦃🖍️ Get Your 10-Page Letter Do A Dot Pack and Let the Thanksgiving Learning Begin! 🌟🍁


Please note: This is a digital product. No physical items will be shipped. After purchase, you will receive a link to download your printable pack.

Contact us
Crystal & Co.
P O Box 55263
Hurst, Texas 76054
crystalandcomp@yahoo.com
Sign up to our mailing list