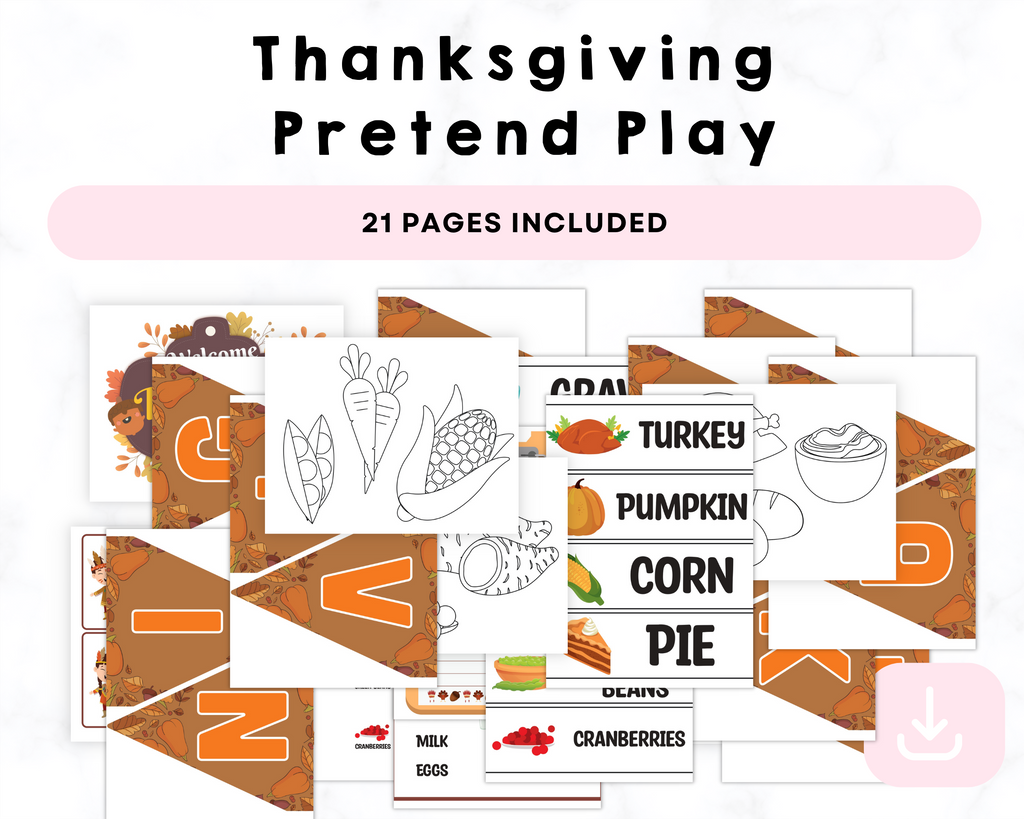 Thanksgiving Pretend Play Printables
Thanksgiving Pretend Play Printables
description
Step into the enchanting world of Thanksgiving with our 21-Page Thanksgiving Pretend Play Printables Bundle. This delightful collection of printables is designed to make your Thanksgiving celebration not only educational but also incredibly fun. Perfect for parents, teachers, and homeschoolers, these printables will engage and entertain kids while fostering their creativity and learning.

**Key Features:**

**Thanksgiving Pretend Play:**
- Imagination Unleashed:** Encourage your child's creativity by providing them with a captivating world of make-believe. Transform your living room into a Thanksgiving wonderland and let your child's imagination soar.

** Halloween Banner:**
- Spooky Meets Gratitude:** Start the Thanksgiving festivities early with our Halloween-themed banner. Hang it with pride, and watch as it sets the stage for a season filled with gratitude.

**Coloring Pages:**
- Vibrant Designs:** Our coloring pages feature charming illustrations of turkeys, pumpkins, pilgrims, and more. Let your little artist bring them to life with a burst of colors.
- Educational Twist:** While coloring, children can learn about the history and significance of Thanksgiving. A perfect blend of fun and education.

**Cut and Paste Activities:**
- Fine Motor Skills:** Enhance your child's fine motor skills with these engaging cut and paste activities. As they assemble Thanksgiving-themed items, they'll be learning and having a blast.
- Learning Through Play:** These activities subtly teach your child about shapes, patterns, and object recognition, all while crafting their Thanksgiving world.

**Complete Thanksgiving Package:**
- Effortless Setup:** Simply print the pages from the comfort of your home, and you're ready to go. No need to spend hours searching for activities - we've bundled everything you need.
- Perfect for All Ages:** These printables are suitable for a wide age range, from toddlers to elementary school children.

 Enjoy quality family time as you embark on these creative and educational activities together. Share stories about Thanksgiving and make cherished memories.

Get your 21-Page Thanksgiving Pretend Play Printables Bundle today and create unforgettable Thanksgiving memories with your little ones. Combining Halloween charm, coloring adventures, and interactive learning, this bundle will be a hit for your family or classroom. Order now and unlock the magic of Thanksgiving for your children.
Please note: This is a digital product. No physical items will be shipped. After purchase, you will receive a link to download your printable pack.