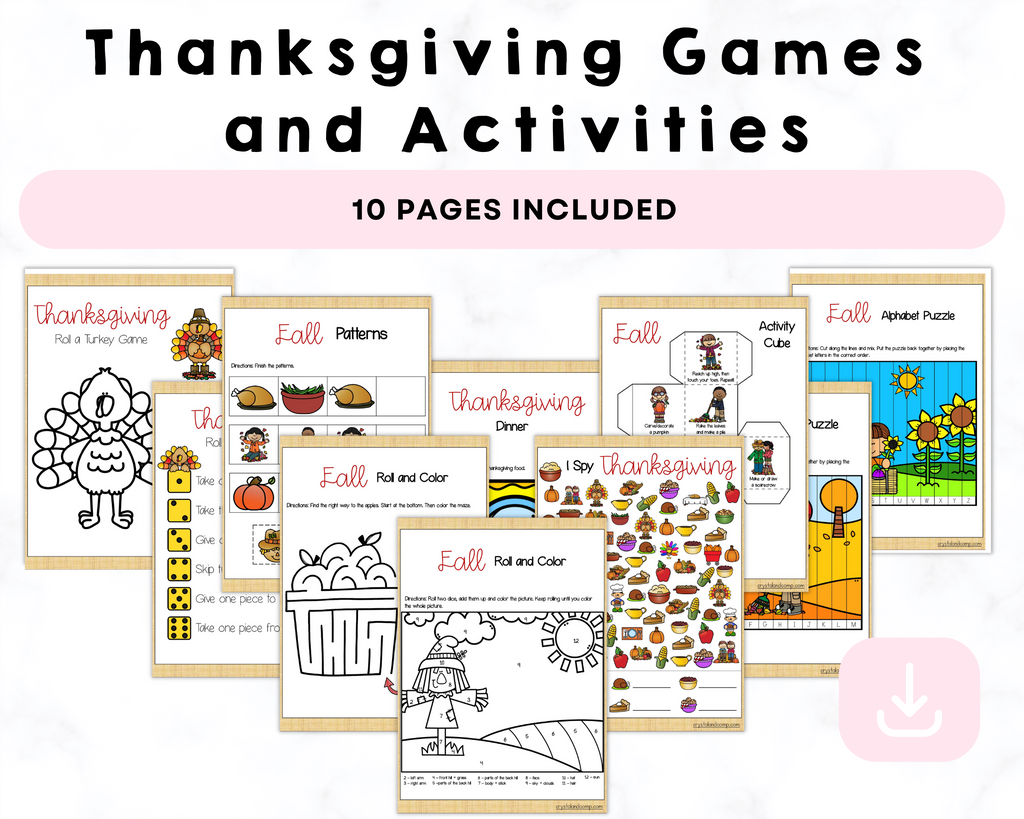 Thanksgiving Printable Games and Activities
Thanksgiving Printable Games and Activities
description
Introducing our Thanksgiving Games and Activities Bundle for Preschoolers – the perfect way to infuse joy and learning into your little one's Thanksgiving celebration! This 10-page activity pack is brimming with delightful coloring sheets, engaging puzzles, and fun cutting exercises designed specifically for preschoolers.
🎨 **Coloring Sheets:** Watch as your preschooler's creativity comes to life with our Thanksgiving-themed coloring sheets. These adorable illustrations will keep your little artist entertained while developing their fine motor skills and color recognition.
🧩 **Puzzles:** Foster problem-solving and critical thinking with a variety of interactive puzzles. Our Thanksgiving-themed puzzles are tailored to suit preschoolers, helping them grasp basic concepts like shapes, patterns, and matching – all while having a blast!
✂️ **Cutting Exercises:** Give your preschooler a chance to refine their motor skills with our enjoyable cutting exercises. They'll love cutting along the lines to create delightful Thanksgiving-themed shapes, all while enhancing their coordination and dexterity.
🍂 **Celebrate Thanksgiving with Fun and Learning:** This 10-page activity bundle is the ideal addition to your Thanksgiving festivities. It's not just about keeping your little ones entertained; it's about encouraging growth, creativity, and learning in a playful and enjoyable way.
👶 **Perfect for Preschoolers:** Specially curated for preschool-aged children, this activity pack is simple, engaging, and educational. Watch as your child explores the world of colors, shapes, and coordination while immersing themselves in the Thanksgiving spirit.
🎉 **Why Choose Our Thanksgiving Games and Activities Bundle:**
- Engaging and age-appropriate activities for preschoolers.
- Designed to foster creativity, motor skills, and cognitive development.
- Thanksgiving-themed illustrations to ignite the holiday spirit.
- Easily accessible and printable for instant fun and convenience.
Make this Thanksgiving memorable for your preschooler by adding our Thanksgiving Games and Activities Bundle to your festivities. Grab yours today and watch as the joy of learning unfolds in the spirit of gratitude! 🦃🍁
Please note: This is a digital product. No physical items will be shipped. After purchase, you will receive a link to download your printable pack.
Contact us
Crystal & Co.
P O Box 55263
Hurst, Texas 76054
crystalandcomp@yahoo.com
Sign up to our mailing list