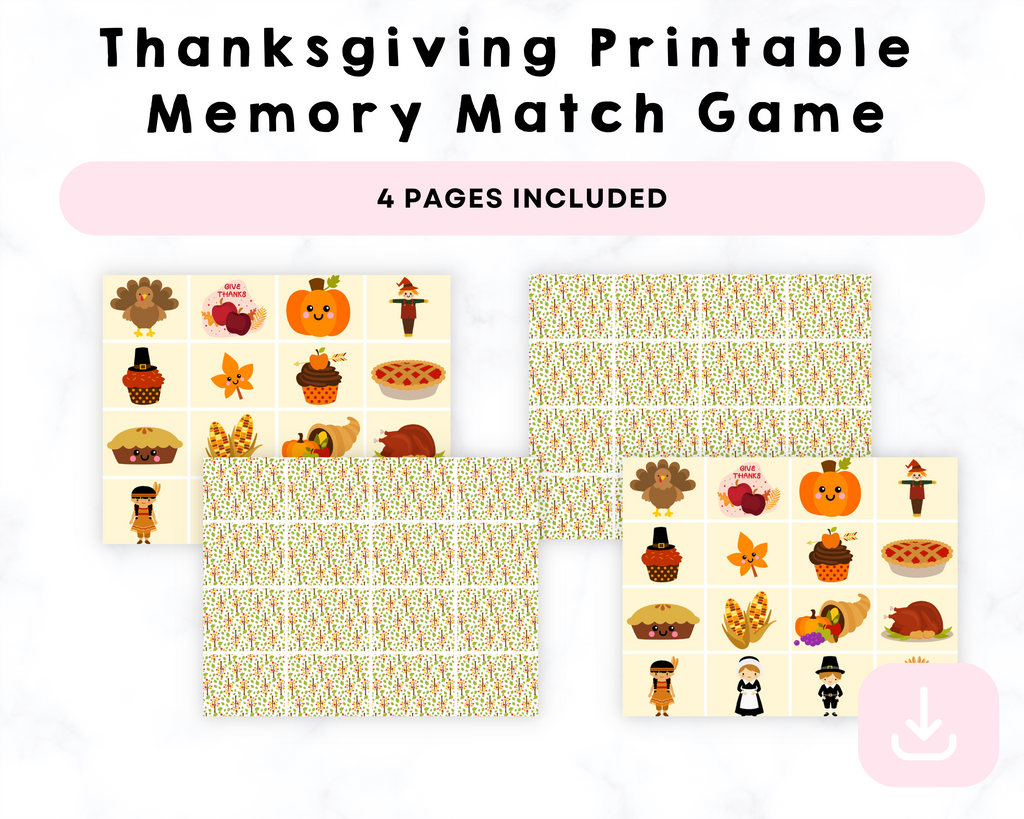 Thanksgiving Printable Memory Match Game
Thanksgiving Printable Memory Match Game
description
Introducing our delightful 4-page Thanksgiving Printable Memory Match Game, designed especially for preschoolers! This engaging game is the perfect addition to your Thanksgiving festivities, promising hours of fun and learning for your little ones.
🦃 **Page-Turning Adventure**: Immerse your child in a captivating Thanksgiving-themed memory game with four beautifully designed pages. Each page features vibrant and adorable illustrations that will spark excitement and curiosity in young minds.
🧠 **Enhanced Memory and Concentration**: This Memory Match Game isn't just fun—it's educational too! It helps sharpen your child's memory, concentration, and cognitive skills as they pair up matching cards, fostering their learning and development.
🌈 **Colorful and Engaging Design**: The game is designed with vivid colors and engaging patterns, ensuring that your preschooler stays captivated throughout the play. The lively graphics will encourage their creativity and imagination.
👶 **Perfect for Preschoolers**: Tailored specifically for preschool-aged children, this game is easy to understand and play, making it an ideal choice for their first memory match experience. It's a fantastic way to introduce them to the joys of learning and play.
🖨️ **Print and Play**: Simply print the game pages on standard letter-sized paper and cut out the cards. It's quick, easy, and convenient for busy parents, allowing your child to jump right into the fun!
🎉 **Great Family Activity**: Gather the family around and enjoy a memorable Thanksgiving bonding experience. Play the Memory Match Game together, creating lasting memories and fostering a love for family time.
Make this Thanksgiving truly special for your little ones with our 4-page Thanksgiving Printable Memory Match Game. It's a fantastic addition to your festivities, combining learning and fun in one exciting package. Download and print it today to start the Thanksgiving adventure! 🍂
Please note: This is a digital product. No physical items will be shipped. After purchase, you will receive a link to download your printable pack.
Contact us
Crystal & Co.
P O Box 55263
Hurst, Texas 76054
crystalandcomp@yahoo.com
Sign up to our mailing list