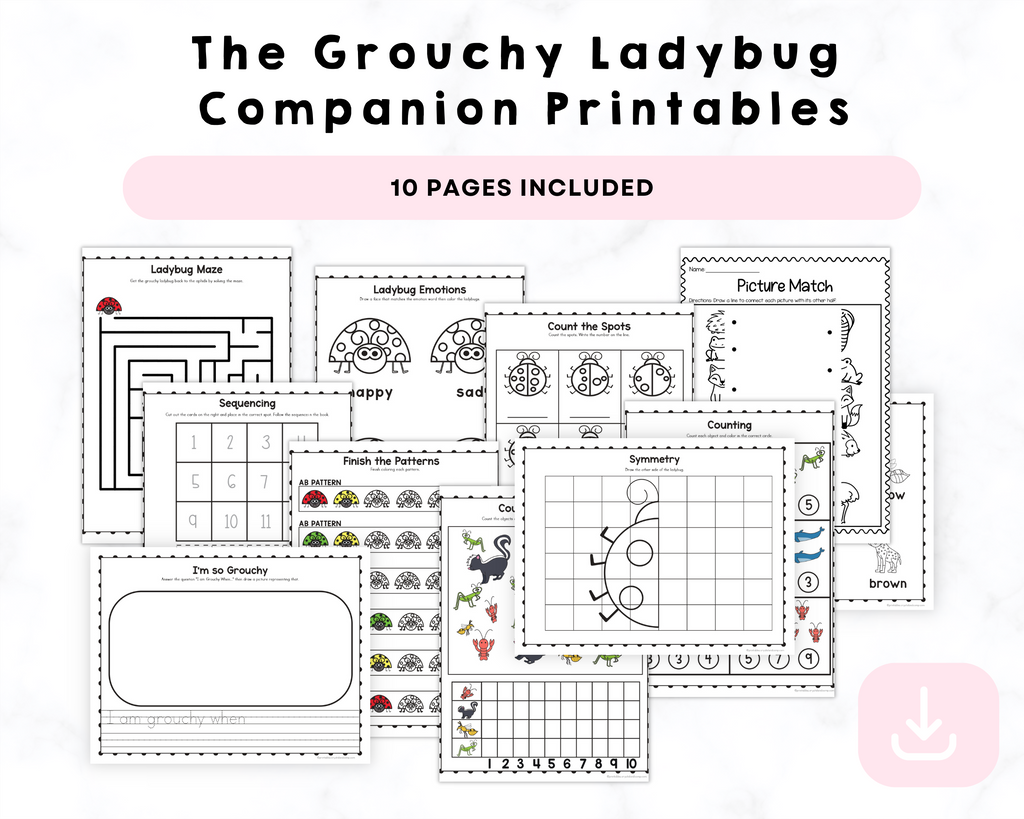 The Grouchy Ladybug Companion Printables
The Grouchy Ladybug Companion Printables
description
Engage, educate, and entertain your little ones with this delightful collection of educational printables designed to accompany Eric Carle's timeless classic, "The Grouchy Ladybug." Our 10-page companion printables are the perfect addition to your preschool curriculum, providing hours of interactive learning and fun.

**Maze Mania**
Get ready for some maze-solving adventures! Your child will help the Grouchy Ladybug find her way through intricate mazes, enhancing their problem-solving and fine motor skills.

**Picture Match**
Inspire your child's observation and matching skills with these exciting picture match activities. Pair up characters and objects from the story and watch their confidence grow!

**Sequencing Challenge**
Foster essential early literacy skills with our sequencing activities. Your little ones will love arranging the story events in the correct order, promoting comprehension and story structure understanding.

**Count the Spots**
Counting has never been this much fun! With our 'Count the Spot' printable, your child can practice their counting skills while helping the Grouchy Ladybug count her spots.

**Finish the Patterns**
Stimulate creativity and pattern recognition with our 'Finish the Patterns' activities. Your preschoolers will enjoy completing the Ladybug's patterns, boosting their cognitive abilities.

**Symmetry Sensation (1 Page):**
Explore the fascinating world of symmetry with our special printable. Watch as your child creates beautiful symmetrical designs while strengthening their understanding of balance and geometry.

Each page of our Grouchy Ladybug Companion Printables is expertly designed to support your child's early development. From cognitive skills to creativity and motor coordination, these printables are a fantastic addition to your preschool resources.

Make learning an adventure with our 10-Page Grouchy Ladybug Companion Printables. Order now and watch your child's curiosity and enthusiasm for learning bloom!
Please note: This is a digital product. No physical items will be shipped. After purchase, you will receive a link to download your printable pack.
Contact us
Crystal & Co.
P O Box 55263
Hurst, Texas 76054
crystalandcomp@yahoo.com
Sign up to our mailing list