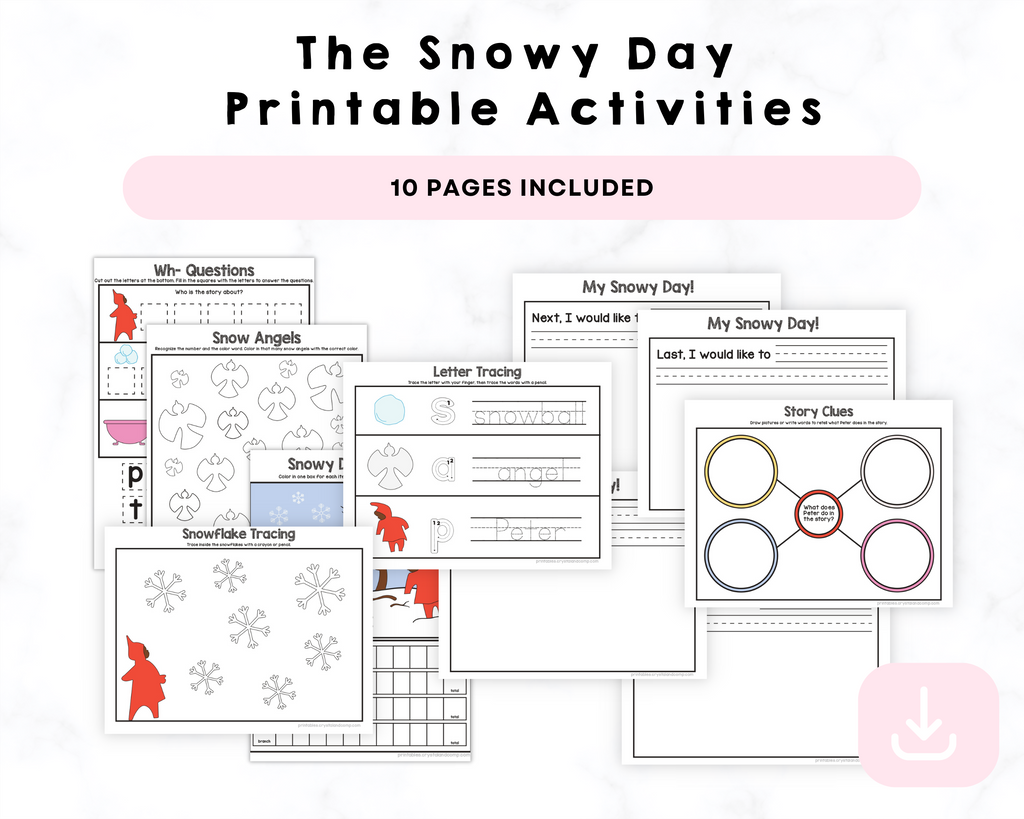 The Snowy Day Printable Activities
The Snowy Day Printable Activities
description
Introducing "The Snowy Day Printable Activities" - an engaging and educational 10-page resource designed to captivate the imaginations of preschoolers while fostering crucial developmental skills. Created with both parents and teachers in mind, this printable package is a winter wonderland of learning opportunities.

**What's Inside:**

1. **WH- Questions:**
- Stimulate critical thinking and language development with thought-provoking WH-questions related to "The Snowy Day" theme. Encourage your little ones to explore, inquire, and express themselves as they delve into the magical world of Peter and his snowy adventures.

2. **Letter Tracing:**
- Transform letter recognition into a joyful activity! Our carefully crafted letter tracing exercises are designed to enhance fine motor skills and reinforce alphabet familiarity. Watch as your preschoolers confidently trace their way through the alphabet, laying a strong foundation for future literacy.

3. **Snowflake Tracing:**
- Embrace the beauty of winter with enchanting snowflake tracing exercises. These activities not only enhance hand-eye coordination but also introduce geometric shapes in a delightful manner. Your little learners will revel in the intricate patterns, adding a touch of artistry to their snowy exploration.

4. **Story Clues:**
- Ignite the spark of storytelling in your preschoolers with our unique story clues section. Unleash their creativity as they use these prompts to invent their own tales of snowy escapades. This section not only fosters imagination but also builds narrative skills, setting the stage for a lifelong love of storytelling.

**Why Parents and Teachers Love It:**

- **Versatility:**
- Ideal for both home and classroom settings, these printables offer flexibility in incorporating winter-themed activities into your curriculum or daily routine.

- **Educational and Fun:**
- Balancing education with entertainment, "The Snowy Day Printable Activities" provide a perfect blend of learning and fun, making it a hit with both parents and teachers alike.

- **Easy to Use:**
- With clear instructions and user-friendly designs, these printables are hassle-free for parents and educators to implement, ensuring a seamless and enjoyable learning experience for the little ones.

- **Cultivates a Love for Learning:**
- Through interactive exercises inspired by "The Snowy Day," this resource cultivates a genuine passion for learning, setting the stage for future academic success.

**Order Now and Let the Snowy Adventures Begin!**

Bring the magic of winter into your educational toolkit with "The Snowy Day Printable Activities." Watch as your preschoolers embark on a journey of learning and discovery, all while having a snowball of fun! 


Please note: This is a digital product. No physical items will be shipped. After purchase, you will receive a link to download your printable pack.