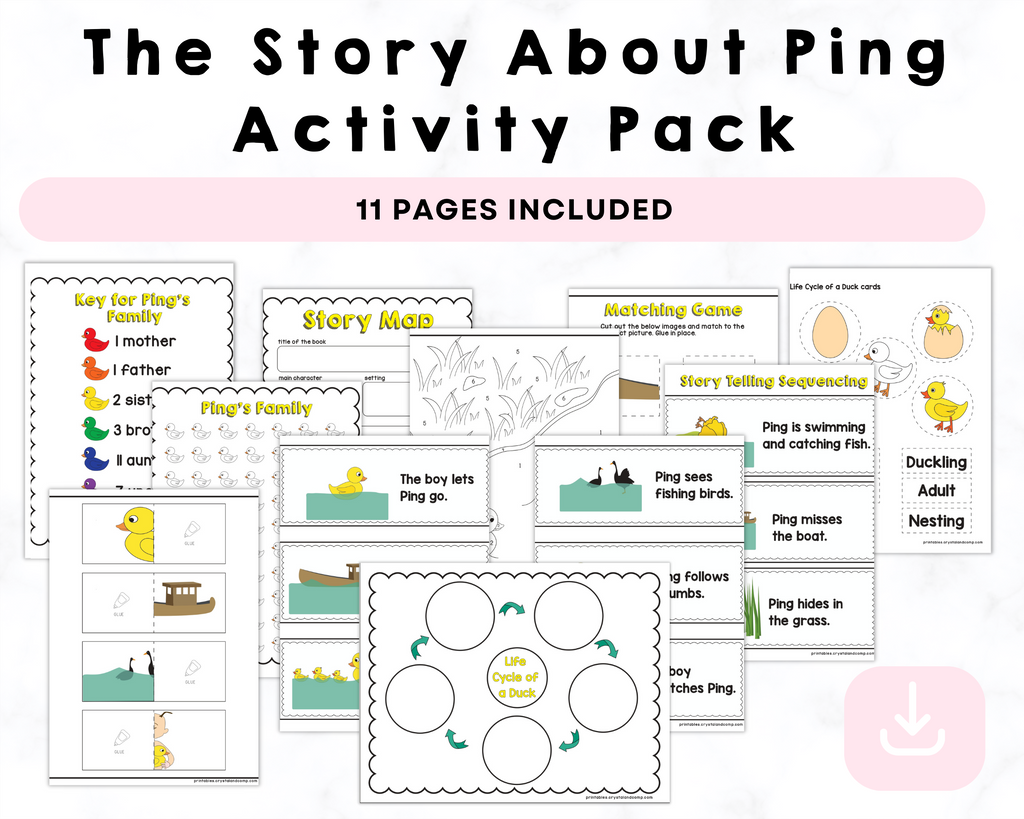 The Story About Ping Activity Pack Printables
The Story About Ping Activity Pack Printables
description
Dive into the magical world of Ping with our engaging and educational "The Story About Ping Activity Pack Printable." This 11-page digital download is designed to bring the classic children's story to life through a variety of interactive and creative activities.


 Coloring Pages:
Encourage artistic expression and imagination with beautifully illustrated coloring pages featuring Ping and his adventures. Let your little ones bring the story to life through their own colorful creations.

 Matching Games:
Enhance memory and cognitive skills with fun matching games that feature characters and elements from the story. A delightful way for children to improve their concentration and attention to detail.

 Storytelling Sequencing:
Foster storytelling and language development by sequencing events from the story. This activity allows children to narrate Ping's journey in their own words, enhancing comprehension and creative thinking.

and more!


- **High-Quality Printables:** Professionally designed and high-resolution printables ensure a sharp and clear outcome when printing at home.
- **Interactive Learning:** Engage children in interactive learning experiences that support early literacy and cognitive development.
- **Perfect for Classroom or Home:** Ideal for teachers, homeschoolers, and parents looking to supplement their children's learning in a fun and educational way.

Take a leap into Ping's world with our Activity Pack Printable. Let the creativity and learning begin!

Please note: This is a digital product. No physical items will be shipped. After purchase, you will receive a link to download your printable pack.
Contact us
Crystal & Co.
P O Box 55263
Hurst, Texas 76054
crystalandcomp@yahoo.com
Sign up to our mailing list