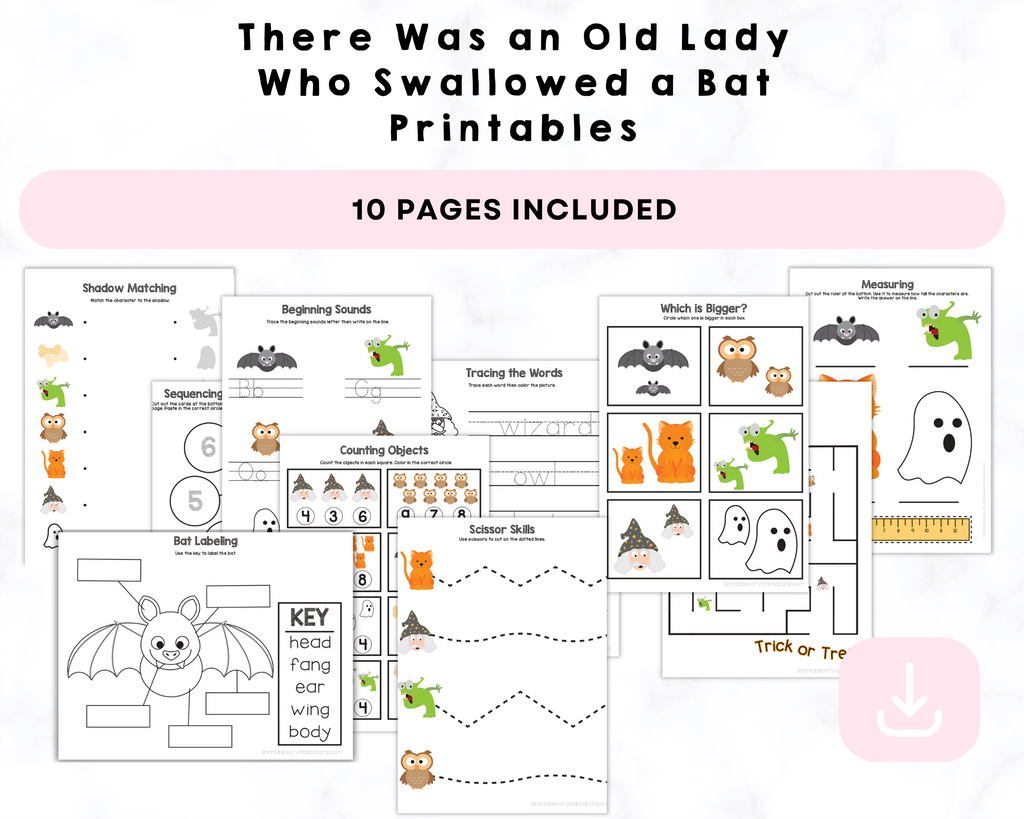 There Was an Old Lady Who Swallowed a Bat Printable
There Was an Old Lady Who Swallowed a Bat Printable
description
Introducing our "There Was an Old Lady Who Swallowed a Bat" Printable Activity Pack - a delightful and educational 10-page extravaganza that combines shadow matching, bat labeling, measuring, tracing words, and exploring beginning sounds! Your young learners will be engrossed in this interactive adventure, fostering creativity and fundamental skills.

**Shadow Matching**
Unleash your child's critical thinking as they match shadows to their corresponding images, helping the Old Lady gobble up the bat with precision!

**Bat Labelling**
Let creativity soar as your child labels parts of a bat, discovering the anatomy of this fascinating creature while enhancing their vocabulary.

**Measuring Fun**
Get hands-on with measuring activities that promote math skills. Help the Old Lady measure the items she swallowed, reinforcing early mathematical concepts.

**Tracing Words**
Watch your child's handwriting skills flourish as they trace words associated with the story. Encourage proper letter formation and spelling.

**Beginning Sounds**
Dive into the world of phonics with pages dedicated to identifying and tracing beginning sounds. Enhance language skills and prepare your little one for reading success.

This printable activity pack is designed to engage young minds while aligning with educational standards. Add this to your collection and watch as your child embraces learning with enthusiasm and joy! Perfect for homeschooling, classroom activities, or simply quality bonding time.
Please note: This is a digital product. No physical items will be shipped. After purchase, you will receive a link to download your printable pack.
Contact us
Crystal & Co.
P O Box 55263
Hurst, Texas 76054
crystalandcomp@yahoo.com
Sign up to our mailing list