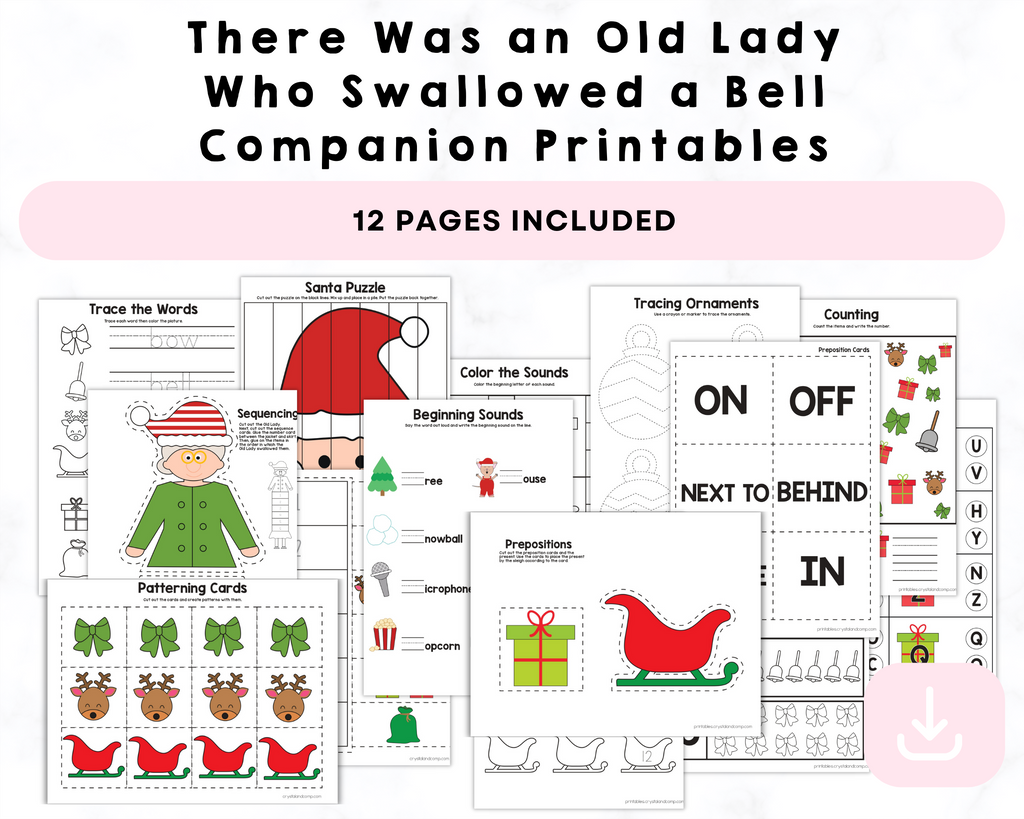 There Was an Old Lady Who Swallowed a Bell Companion Printable
There Was an Old Lady Who Swallowed a Bell Companion Printable
description
Introducing our festive 12-page "There Was an Old Lady Who Swallowed a Bell" Companion Printable! This delightful educational pack is perfect for young learners during the holiday season. Packed with engaging activities such as word tracing, counting exercises, coloring sheets, patterning cards, and a Santa puzzle, and more. This companion printable will add a dash of merriment to your child's learning experience.

**Product Features:**

1. **Word Tracing:** Help your child improve their handwriting and letter recognition skills as they trace holiday-themed words from the classic story.

2. **Counting Exercises:** Enhance numerical understanding by counting holiday-themed objects and characters, making learning math enjoyable and interactive.

3. **Coloring Sheets:** Unleash your child's creativity as they bring the holiday scenes to life with vibrant colors and imaginative strokes.

4. **Patterning Cards:** Foster critical thinking and problem-solving skills through pattern recognition and completion activities, all adorned with festive imagery.

5. **Santa Puzzle:** Delight in the spirit of the season by assembling a jolly Santa puzzle, providing both entertainment and cognitive development.

Get into the festive spirit and make learning a joyful adventure with our "There Was an Old Lady Who Swallowed a Bell" Companion Printable. Download and print these engaging pages to create a delightful learning experience for your little ones!
Please note: This is a digital product. No physical items will be shipped. After purchase, you will receive a link to download your printable pack.
Contact us
Crystal & Co.
P O Box 55263
Hurst, Texas 76054
crystalandcomp@yahoo.com
Sign up to our mailing list