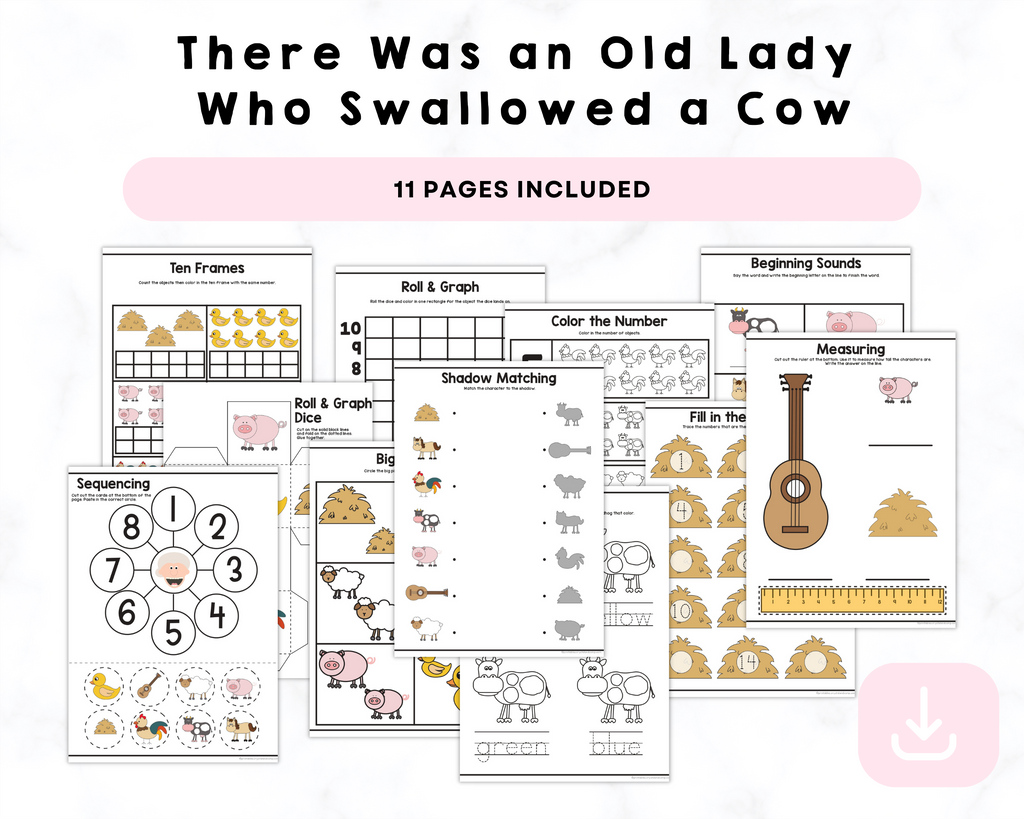 There Was an Old Lady Who Swallowed a Cow Printable
There Was an Old Lady Who Swallowed a Cow Printable
description
Introducing our delightful "There Was an Old Lady Who Swallowed a Cow Printable" - the perfect addition to your preschooler's learning adventures! This 11-page educational resource is designed to captivate young minds, foster creativity, and encourage early literacy development. Here's what you can expect from this enchanting printable:

**1. Engaging Storytelling:** Each page of this printable unfolds a whimsical story that follows the adventures of the Old Lady and her unexpected snacks. With every turn of the page, your child will be eager to discover what she'll swallow next!

**2. Interactive Learning:** This printable offers more than just a good read. It includes various activities and games that make learning fun and interactive. From coloring pages to puzzles, your preschooler will be excited to explore and learn.

**3. Early Literacy Skills:** Encourage early literacy skills with this printable. As your child follows the story, they'll be exposed to new vocabulary and storytelling concepts, helping them develop their language and comprehension skills.

**4. Creativity Unleashed:** Let your child's imagination run wild as they color and personalize the pages of this printable. Coloring is an excellent way to boost creativity and fine motor skills.

**5. Parent-Child Bonding:** This printable is a perfect opportunity for quality parent-child time. Read together, engage in the activities, and create lasting memories while nurturing your child's love for learning.

**6. Versatile Use:** Whether it's for home learning, homeschooling, or as an addition to your classroom materials, this printable is incredibly versatile and suitable for a range of educational settings.

**7. Digital Download:** Convenience at your fingertips! You can instantly access this printable by downloading it after purchase. No need to wait for shipping - start enjoying the fun and learning right away.

Our "There Was an Old Lady Who Swallowed a Cow Printable" is a valuable resource for early childhood education, blending entertainment with education in a way that children adore. Grab your copy today and watch your preschooler's face light up with excitement as they embark on a magical journey of reading and learning!
Please note: This is a digital product. No physical items will be shipped. After purchase, you will receive a link to download your printable pack.