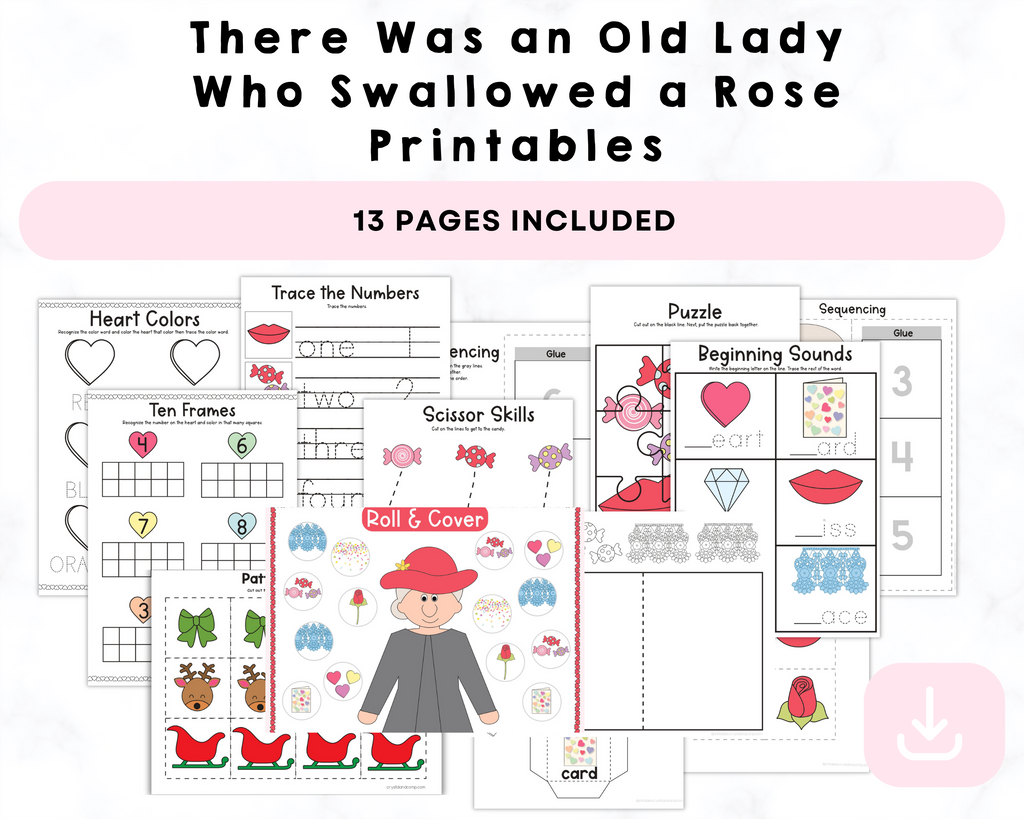 There Was an Old Lady Who Swallowed a Rose Printables
There Was an Old Lady Who Swallowed a Rose Printables
description
Introducing our delightful "There Was an Old Lady Who Swallowed a Rose Printables" - a 13-page activity pack specially designed for preschoolers to enhance their learning and creativity. Engage your little ones in a world of colorful adventures and educational fun!

** The Rose Bonanza**
Let your child bring the rose to life with vibrant colors. Encourage creativity and fine motor skills through coloring this charming floral scene.

** Tracing the Path**
Develop pre-writing skills as your preschooler traces the path of the old lady's journey, fostering hand-eye coordination and pencil control.

** Beginning Sounds**
Discover the joy of learning with beginning sounds! Connect letters to their corresponding images, promoting phonemic awareness and early reading skills.

**Cut and Paste Garden**
Sharpen scissor skills by cutting and pasting items into the garden. Watch your child's confidence grow as they create their own garden masterpiece.

** Sequencing the Story**
Follow the adventure of the old lady as she swallows different items. Arrange the pictures in order and narrate the story, enhancing sequencing abilities and comprehension.

**Match and Learn**
Match the characters with their respective items to encourage memory and association. Enjoy a playful learning experience with these engaging activities.

**Colorful Counting**
Count and color the various elements on the page, introducing basic math concepts in an entertaining and interactive way.

** Design Your Own Rose**
Unleash your budding artist's imagination by designing and coloring their very own rose. Let their creativity bloom!

Get ready to make learning enjoyable and engaging for your little one with these interactive and educational printables. Order now and set them on a path of discovery and skill development!
Please note: This is a digital product. No physical items will be shipped. After purchase, you will receive a link to download your printable pack.
Contact us
Crystal & Co.
P O Box 55263
Hurst, Texas 76054
crystalandcomp@yahoo.com
Sign up to our mailing list