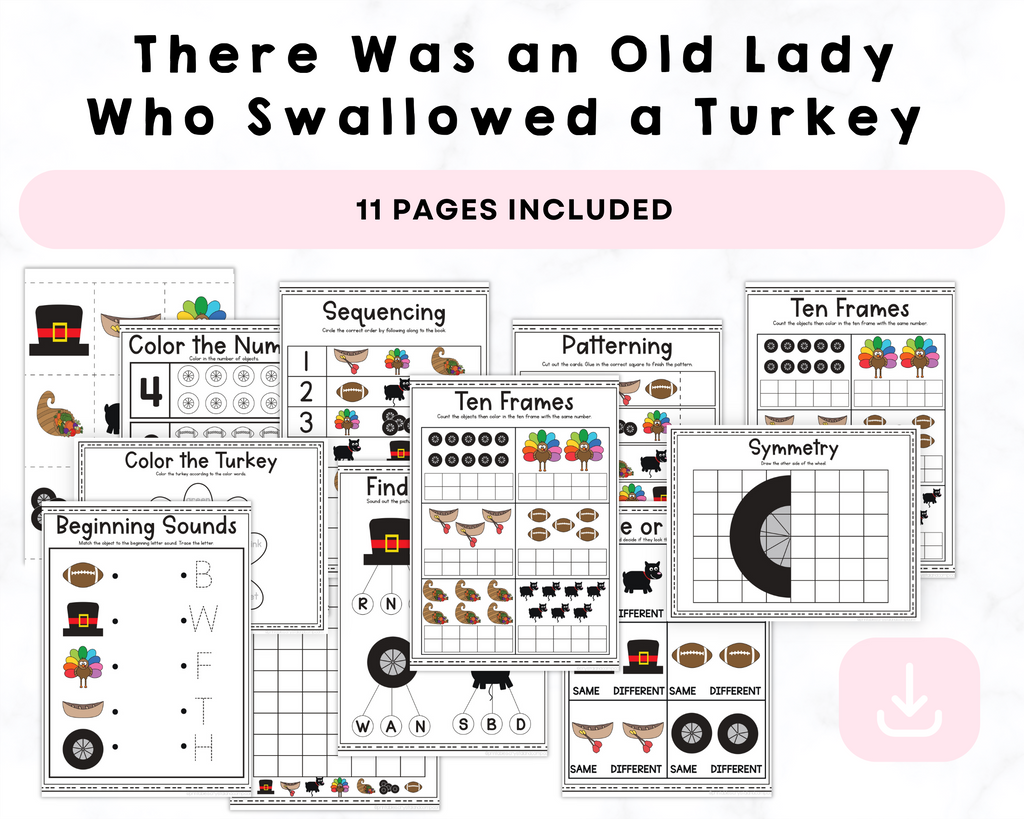 There Was an Old Lady Who Swallowed a Turkey Printable
There Was an Old Lady Who Swallowed a Turkey Printable
description
Dive into the whimsical world of the old lady who can't seem to resist a hearty Thanksgiving feast with our 11-page activity printable! This charming pack brings the beloved tale to life with a variety of engaging and educational activities suitable for preschoolers and kindergarteners.

**Features:**

1. **Coloring Fun:** Let your little ones express their creativity by coloring the delightful characters and scenes from the story. Vibrant illustrations will spark their imagination and bring this entertaining narrative to life.

2. **Letter Tracing:** Develop essential pre-writing skills with specially designed letter tracing sheets. Children can practice tracing uppercase and lowercase letters, reinforcing their ABCs in an enjoyable way.

3. **Sequencing Challenge:** Enhance logical thinking and comprehension with a sequencing activity that allows kids to arrange story events in the correct order, fostering an understanding of story structure and progression.

4. **Patterning Puzzles:** Strengthen pattern recognition skills with entertaining patterning puzzles. As children complete these patterns, they'll enhance their ability to identify and predict sequences—a crucial skill for mathematical thinking.

**Benefits:**

- **Educational and Entertaining:** Combining learning with play, this printable cultivates essential skills like fine motor control, letter recognition, sequencing, and pattern identification.

- **Perfect for Thanksgiving:** Celebrate the Thanksgiving season with a themed activity pack that's sure to keep children engaged and excited during this festive time of year.

- **Versatile Usage:** Ideal for use at home, in classrooms, or as part of homeschooling curriculums, this printable is a valuable educational resource.

Enrich your child's learning journey and celebrate the joy of Thanksgiving with our "There Was an Old Lady Who Swallowed a Turkey" 11-page activity printable. Grab your copy now and watch your little ones delight in the magic of learning through play!

Please note: This is a digital product. No physical items will be shipped. After purchase, you will receive a link to download your printable pack.

Contact us
Crystal & Co.
P O Box 55263
Hurst, Texas 76054
crystalandcomp@yahoo.com
Sign up to our mailing list