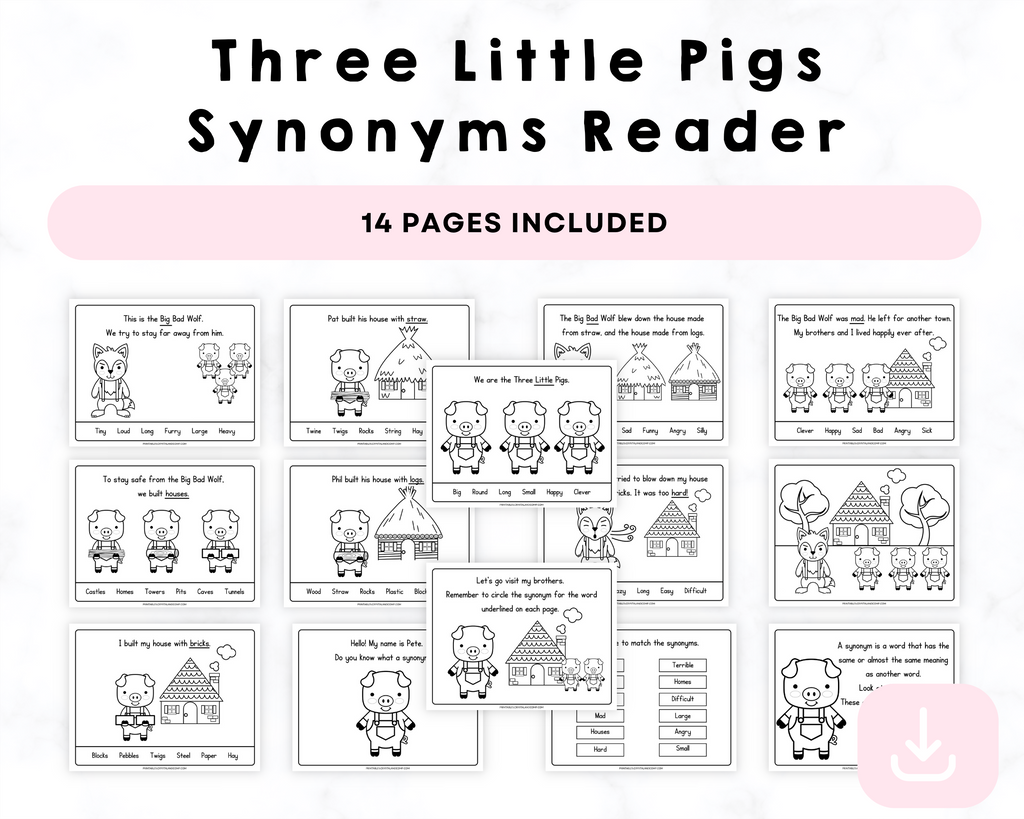 Three Little Pigs Synonyms Reader Printables
Three Little Pigs Synonyms Reader Printables
description
🐷📚 Explore Synonyms Through Storytelling with Our 14-Page Three Little Pigs Synonyms Reader Printables! 🌟🎨
 Tailored for budding storytellers, this pack combines the joy of storytelling with enriching language exploration.
🐺🏠 Educational Adventures:
Synonyms Coloring: Engage in coloring activities that highlight synonyms, expanding vocabulary while reinforcing storytelling elements.

Expression Exploration: Explore synonyms through expressions used in the story, fostering a deeper understanding of language nuances.

Storytelling Enhancement: Enrich storytelling skills by learning and incorporating synonyms into the familiar Three Little Pigs narrative.
📝 How to Use:
Print, color, tell, and learn! These printables are designed to make language exploration and storytelling interactive and enjoyable. Ideal for parents, educators, and caregivers seeking to nurture language skills and creativity in young readers.
🌟 Why Choose Our Synonyms Reader Printables?
Comprehensive Content: 14 pages offering a captivating retelling of the classic story intertwined with synonyms-based activities.

Interactive Design: Vibrant illustrations and engaging exercises that bring the story to life, fostering a love for language and storytelling.

Language Enrichment: Promote vocabulary expansion and expressive language skills through synonym exploration within a familiar tale.
🎨 Perfect for Budding Wordsmiths!
Inspire a love for language and storytelling with our Three Little Pigs Synonyms Reader Printables. Whether for home activities, language lessons, or as a creative educational resource, these printables spark imagination and language discovery.
📥 Instant Download:
No waiting, just storytelling fun! Instantly download your printables and embark on a synonym-filled journey through the classic tale.
🛒 Add to Cart Now and Let the Synonym Adventure Begin! 🐷🏰📚

Please note: This is a digital product. No physical items will be shipped. After purchase, you will receive a link to download your printable pack.


Contact us
Crystal & Co.
P O Box 55263
Hurst, Texas 76054
crystalandcomp@yahoo.com
Sign up to our mailing list