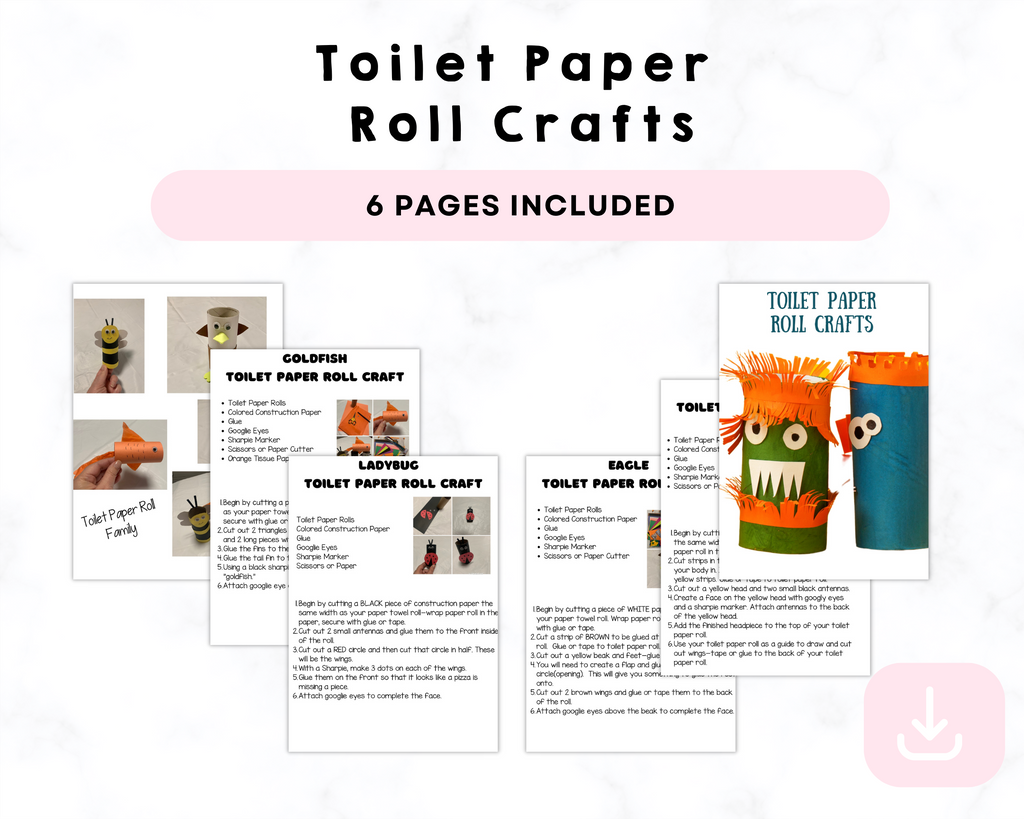 Toilet Paper Roll Printables Crafts
Toilet Paper Roll Printables Crafts
description
🎨🚽 Unleash Creativity with Our 6-Page Toilet Paper Roll Printable Crafts! Transform Rolls into Fantastic Art with Easy-to-Follow Instructions! 🌟✂️
Discover a world of imaginative crafting with our 6-page Toilet Paper Roll Printable Crafts! Designed to repurpose everyday materials, these printables guide children through exciting craft projects using simple and readily available toilet paper rolls. From animals to characters and more, these printables offer a range of creative projects.
✂️🖍️ Crafting Adventures:
Easy-to-Follow Instructions: Engage in hassle-free crafting with clear and simple step-by-step instructions for each project.

Transformative Art: Foster creativity by turning ordinary toilet paper rolls into unique and imaginative creations.
🌟 Why Choose Our Printable Crafts?
Easy Instructions: Clear and concise steps that make crafting accessible and enjoyable for young creators.

Repurposing Fun: Encourage eco-consciousness by repurposing toilet paper rolls into fantastic art pieces.
👶 Perfect for Little Artists!
Inspire creative expression and environmental awareness with our Toilet Paper Roll Printable Crafts. Whether for home-based activities, classroom projects, or as a fun and educational resource, these printables offer an imaginative and sustainable approach to crafting.
🛒 Add to Cart Now and Let the Crafting Adventures Begin! 🌈🎨🧻
Please note: This is a digital product. No physical items will be shipped. After purchase, you will receive a link to download your printable pack.
Contact us
Crystal & Co.
P O Box 55263
Hurst, Texas 76054
crystalandcomp@yahoo.com
Sign up to our mailing list