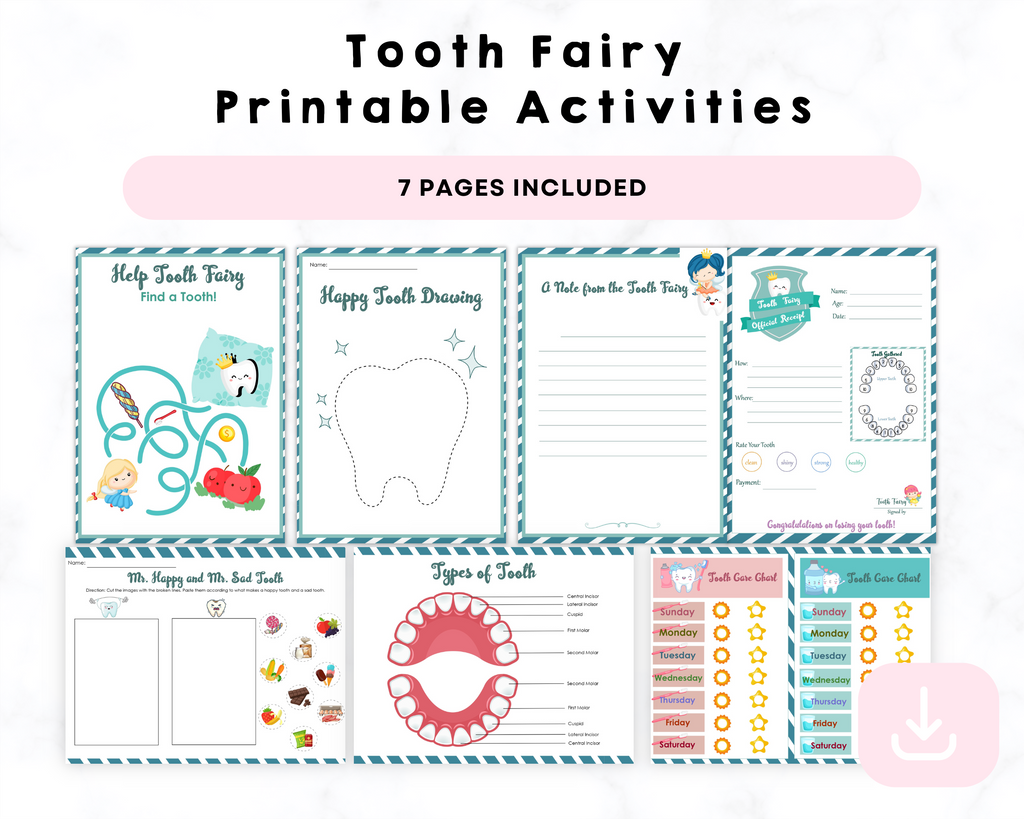 Tooth Fairy Printable Activities
Tooth Fairy Printable Activities
description
🦷✨ Embark on a Tooth Fairy Adventure with Our 7-Page Tooth Fairy Printable Activities! Explore Dental Care, Happy Teeth, Mazes, and More! 🌟🪄
Discover a magical world of dental care and imagination with our 7-page Tooth Fairy Printable Activities! Dive into engaging exercises that educate and entertain, introducing kids to dental hygiene while sparking their creativity.
🔍 What's Inside?
Explore delightful pages featuring a range of activities! From "Getting to Know Your Teeth" educational exercises to drawing a "Happy Tooth," helping the tooth fairy find lost teeth through maze challenges, and meeting "Ms. Happy and Mr. Sad Tooth" characters.
🦷🎨 Educational and Fun Adventures:
Dental Awareness: Learn about dental care and the importance of healthy teeth in an enjoyable and informative manner.
Creative Expression: Draw and engage with "Happy Teeth" to encourage positive dental habits and hygiene.
Interactive Challenges: Help the tooth fairy navigate mazes while meeting charming tooth characters along the way.
📝🧒👧 How to Use:
Print and dive into a world of dental magic! These printables are designed for interactive learning, providing a blend of education and entertainment perfect for kids' exploration and parents' educational resources.
🌟🪄 Perfect for Young Explorers:
Ideal for families, classrooms, or dental offices, our Tooth Fairy Printable Activities offer an engaging way to introduce dental care concepts while nurturing creativity and imagination in a delightful tooth fairy-themed adventure.
🦷✨ Get Your 7-Page Tooth Fairy Activities Set and Join the Dental Adventure Today! 🌈🪄✨

Please note: This is a digital product. No physical items will be shipped. After purchase, you will receive a link to download your printable pack.

Contact us
Crystal & Co.
P O Box 55263
Hurst, Texas 76054
crystalandcomp@yahoo.com
Sign up to our mailing list