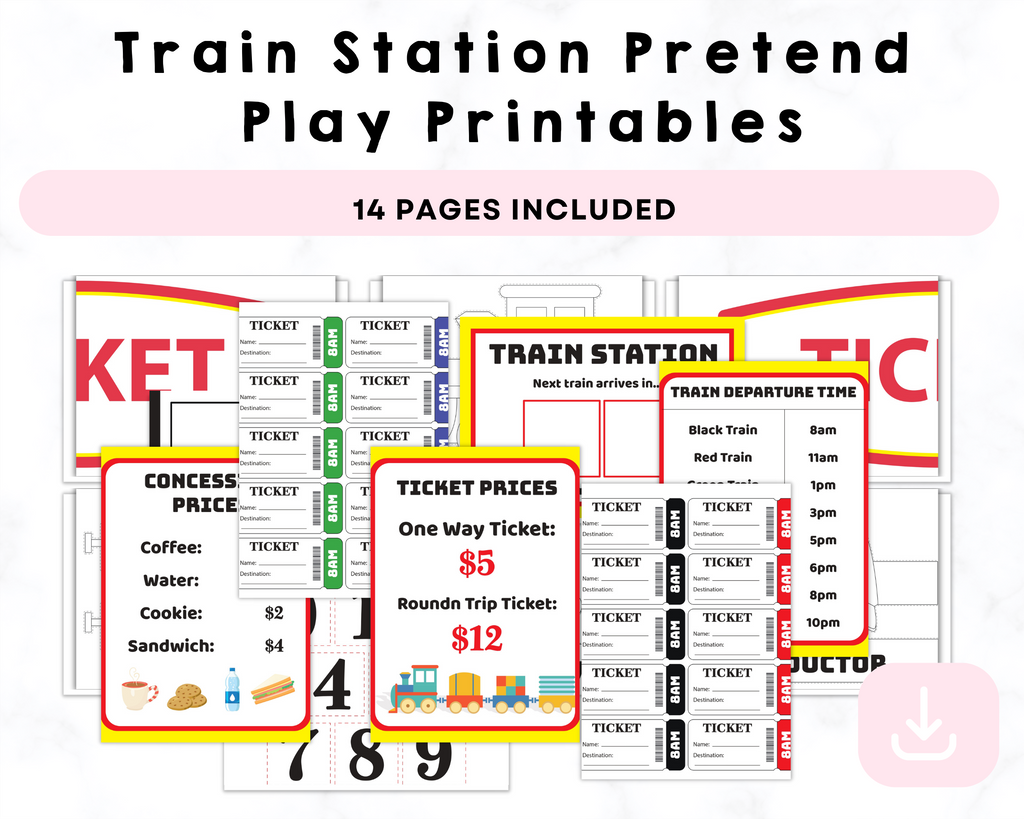 Train Station Pretend Play Printables
Train Station Pretend Play Printables
description
All aboard for a delightful journey into the world of imagination with our Train Station Pretend Play Printables for preschoolers. This 10-page set is designed to spark your little one's creativity and provide endless hours of educational fun. Whether you're a parent, teacher, or caregiver, this printable playset is the perfect tool to engage, entertain, and educate your child.

**Key Features:**

1. **Immersive Play:** Our printables offer a vibrant and detailed train station scene, complete with platforms, trains, ticket counters, and more. Your child can step into the shoes of a train conductor, passenger, or station manager and embark on exciting adventures.

2. **Educational Value:** While having fun, your preschooler will develop essential skills such as fine motor coordination, storytelling, and problem-solving. They can learn about numbers, time, and travel while interacting with this imaginative playset.

3. **Versatility:** These printables are perfect for solo play or for sharing with friends and family. They can be used at home, in the classroom, or during playdates, making them a versatile and valuable resource.

4. **Customization:** Let your child's creativity shine by allowing them to color and personalize the printables. This not only adds a unique touch but also enhances their ownership of the pretend play experience.

5. **No Mess, No Fuss:** Say goodbye to clutter and expensive toys. With these printables, there's no need for assembly, batteries, or storage hassles. Simply print the pages and start playing.



Embark on a journey of creativity, learning, and fun with our Train Station Pretend Play Printables. Order today and let your child's imagination run wild as they explore the exciting world of trains and travel! All aboard for a delightful adventure!
Please note: This is a digital product. No physical items will be shipped. After purchase, you will receive a link to download your printable pack.
Contact us
Crystal & Co.
P O Box 55263
Hurst, Texas 76054
crystalandcomp@yahoo.com
Sign up to our mailing list