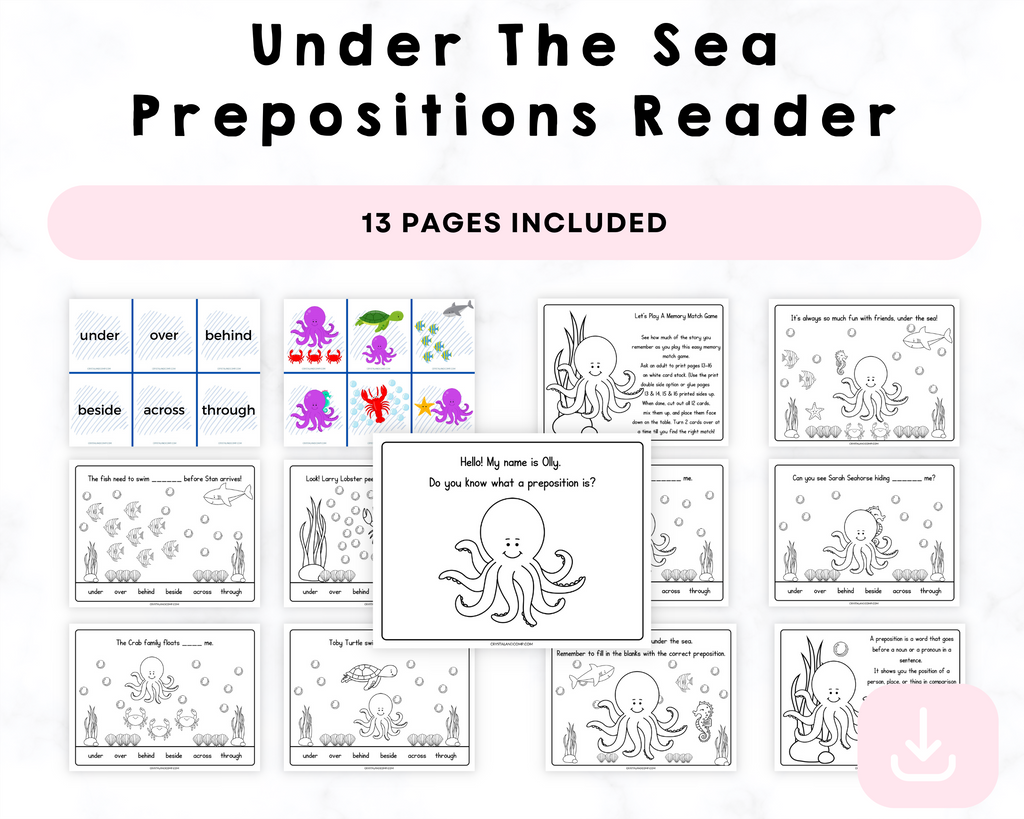 Under The Sea Prepositions Reader Printables (with Coloring Pages and Matching Game)
Under The Sea Prepositions Reader Printables (with Coloring Pages and Matching Game)
description
🐠📘 Dive into Learning with Our 13-Page Under The Sea Prepositions Reader Printables! Explore, Color, and Match in an Underwater Adventure! 🌊🎨
Immerse young learners in an oceanic journey with our engaging 13-Page Under The Sea Prepositions Reader Printables! This underwater-themed pack combines a reader, coloring pages, and a matching game to reinforce understanding of prepositions in a fun-filled aquatic setting.
🔍 What's Inside?
Each page not only presents prepositions in context but also includes coloring activities and a matching game, making learning an interactive and enjoyable experience.
📘🎨 Educational Adventures:
Prepositions Reader: Engage in a story-based learning experience, identifying and understanding prepositions in an exciting underwater tale.

Coloring Pages: Stimulate creativity and imagination through coloring sea-themed illustrations on each page.

Matching Game: Reinforce learning by playing a fun matching game that pairs prepositions with their corresponding images, enhancing comprehension.
🌊🐙 Perfect for Explorers of All Ages!
Inspire a love for language and exploration with our Under The Sea Prepositions Reader Printables. Whether for homeschooling, classroom enrichment, or as an interactive learning tool, these printables offer a captivating dive into the world of prepositions beneath the waves.


🛒 Add to Cart Now and Explore Underwater Prepositions! 🌎🐬📚
Please note: This is a digital product. No physical items will be shipped. After purchase, you will receive a link to download your printable pack.
Contact us
Crystal & Co.
P O Box 55263
Hurst, Texas 76054
crystalandcomp@yahoo.com
Sign up to our mailing list