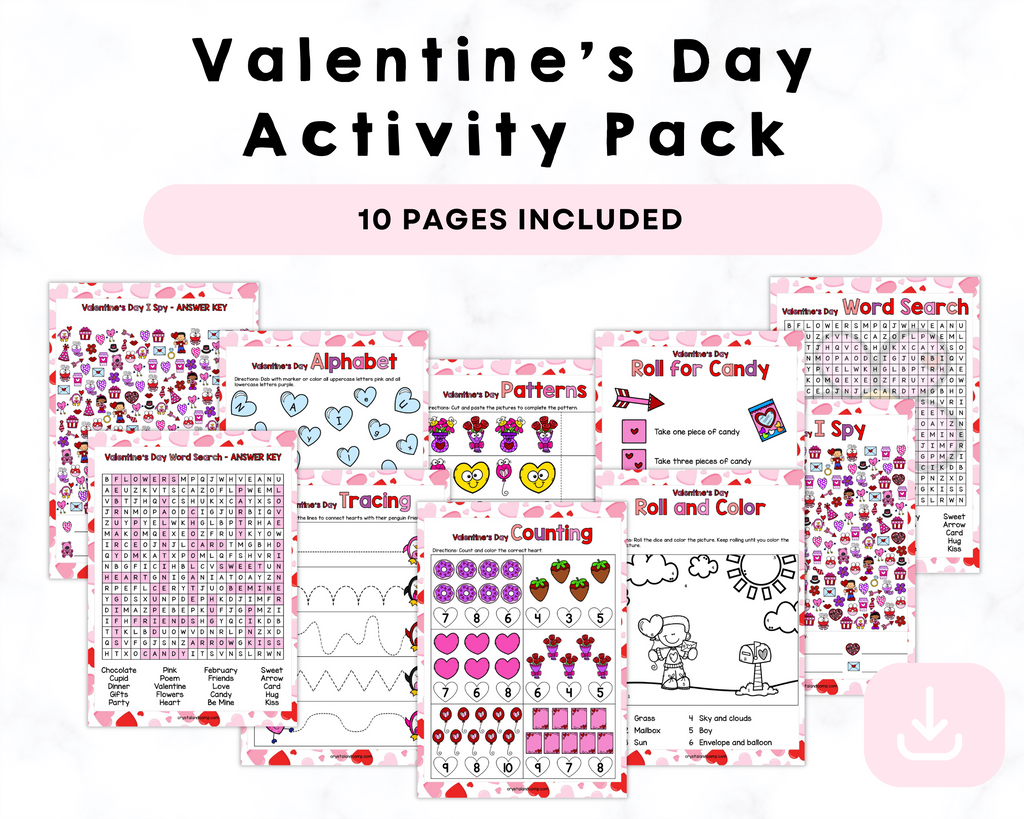 Valentine's Day Activity Pack Printables
Valentine's Day Activity Pack Printables
description
Introducing the Ultimate Valentine's Day Activity Pack for Preschoolers - 10 pages of heart-filled fun designed to spark creativity and learning in your little ones! Our Valentine's Day Activity Pack Printables are crafted to engage and entertain while fostering essential skills. Here's a glimpse into the enchanting world your little learners will discover:

1. **Valentine's Day I Spy:**
- Enjoy a delightful search-and-find adventure with charming Valentine-themed objects. Watch your child's eyes light up with joy while developing observation skills.

2. **Calentines Day Alphabet:**
- Transform alphabet learning into a celebration of love! Each letter comes alive with a Valentine's Day twist, making ABCs a heartwarming experience.

3. **Valentines Day Word Search:**
- Engage little wordsmiths with a captivating word search puzzle featuring love-infused vocabulary. It's a perfect blend of entertainment and education.

4. **Walentines Day Tracing:**
- Hone fine motor skills with adorable tracing sheets. Let little fingers follow the lines of cupid, hearts, and other Valentine's Day elements, building handwriting confidence.

5. **Counting Bliss:**
- Counting has never been sweeter! From chocolates to Cupid's arrows, our activities make numbers come to life for foundational learning.

6. **Roll and Color Love:**
- Unleash the magic of colors with our unique roll-and-color activity. Roll the dice, match the number, and bring Valentine's Day illustrations to life with vibrant hues. It's a creative journey that promises endless smiles.

This Valentine's Day Activity Pack isn't just printables; it's a doorway to a world where love meets learning. Watch as your little ones immerse themselves in a joyous experience that combines the enchantment of Valentine's Day with crucial developmental skills.

Please note: This is a digital product. No physical items will be shipped. After purchase, you will receive a link to download your printable pack.

Contact us
Crystal & Co.
P O Box 55263
Hurst, Texas 76054
crystalandcomp@yahoo.com
Sign up to our mailing list