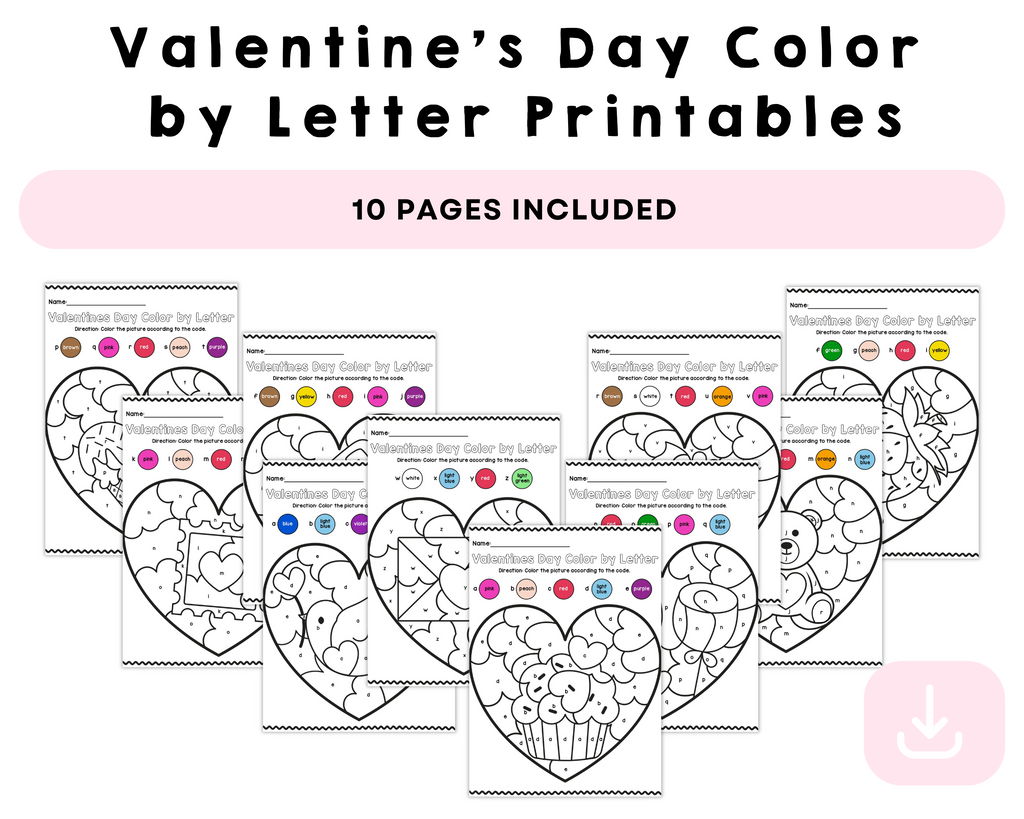 Valentine's Day Color by Letter Printables
Valentine's Day Color by Letter Printables
description
💖🎨 Immerse in Valentine's Day Fun with Our 10-Page Color by Letter Printables! Explore, Color, and Learn in a Heartwarming Adventure! 💌🖍️

 These delightful pages combine the joy of coloring with the excitement of letter recognition, creating a heartwarming and educational experience for young learners.

🔠🌈 **Activities Included:**

- **Colorful Letter Recognition:** Discover a world of love-themed illustrations, each corresponding to a specific letter, encouraging letter recognition skills.
- **Artistic Expression:** Unleash creativity and enhance fine motor skills by coloring beautiful Valentine's Day images using a vibrant palette.
- **Alphabet Adventure:** Engage in a playful exploration of the alphabet while discovering charming illustrations that capture the spirit of Valentine's Day.

📚💕 **Educational Adventures:**

- **Letter Recognition:** Foster early literacy skills by associating letters with delightful Valentine's Day visuals.
- **Fine Motor Skills:** Enhance hand-eye coordination and dexterity through the enjoyable act of coloring.
- **Love for Learning:** Combine the excitement of Valentine's Day with the joy of exploring letters, making learning a heartwarming adventure.

👶👧 **Perfect for Young Learners:**

Designed with young learners in mind, our Valentine's Day Color by Letter Printables offer a delightful and age-appropriate way to introduce and reinforce letter recognition skills.

💖🖍️ **Get Your 10-Page Valentine's Day Color by Letter Printables and Infuse Love into Learning! Perfect for Home, School, or Valentine's Day Celebrations! 🌈💌📚**


Please note: This is a digital product. No physical items will be shipped. After purchase, you will receive a link to download your printable pack.

Contact us
Crystal & Co.
P O Box 55263
Hurst, Texas 76054
crystalandcomp@yahoo.com
Sign up to our mailing list