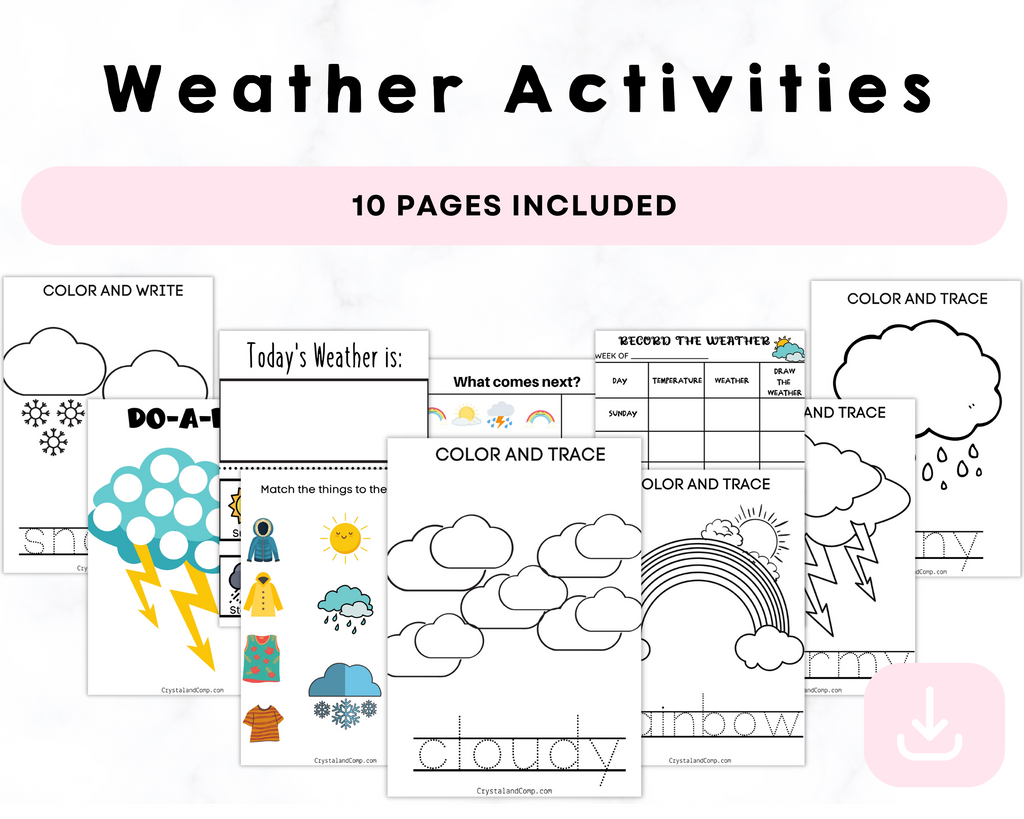 Weather Activities Printable
Weather Activities Printable
description
Introduce your little learners to the whimsical world of weather with our delightful "Weather Activities Printable." This engaging and educational 10-page activity set is specifically tailored for preschoolers, providing a hands-on approach to understanding the fascinating aspects of weather.

**Daily and Weekly Weather Reports:**
Allow your preschooler to embark on a daily weather adventure! Record and discuss the weather patterns for each day, fostering an early understanding of weather changes and patterns.

** Color and Trace Weather:**
Encourage creativity and fine motor skills as your child colors and traces various weather elements, including suns, clouds, raindrops, and more. This interactive activity enhances hand-eye coordination while making learning fun and vibrant.

**Daily Weather Report Pages:** Engage your child in observing and documenting the daily weather, promoting early science skills and an awareness of the environment.

 **Weekly Weather Summary:** Summarize the week's weather in an enjoyable and interactive manner, reinforcing concepts and building a sense of routine.

 **Color the Weather Pages:** Let creativity shine by adding colors to weather elements, fostering an appreciation for art and enhancing color recognition.

 **Trace the Weather Pages:** Improve fine motor skills by tracing weather words, providing a guided and enjoyable learning experience.

 **Printable & Convenient:** Easily accessible in a digital format, you can print the pages at home and start the learning journey whenever suits your schedule.

 **Parent-Child Bonding:** Share joyful learning moments with your child, facilitating discussions about weather and fostering a love for learning.

Make learning about weather a colorful and enriching experience for your little one with our "Preschool Weather Activities Printable." Start their educational journey today and watch them light up as they discover the wonders of weather!

This is a digital product. No physical items will be shipped. After purchase, you will receive a link to download your printable pack.

Contact us
Crystal & Co.
P O Box 55263
Hurst, Texas 76054
crystalandcomp@yahoo.com
Sign up to our mailing list