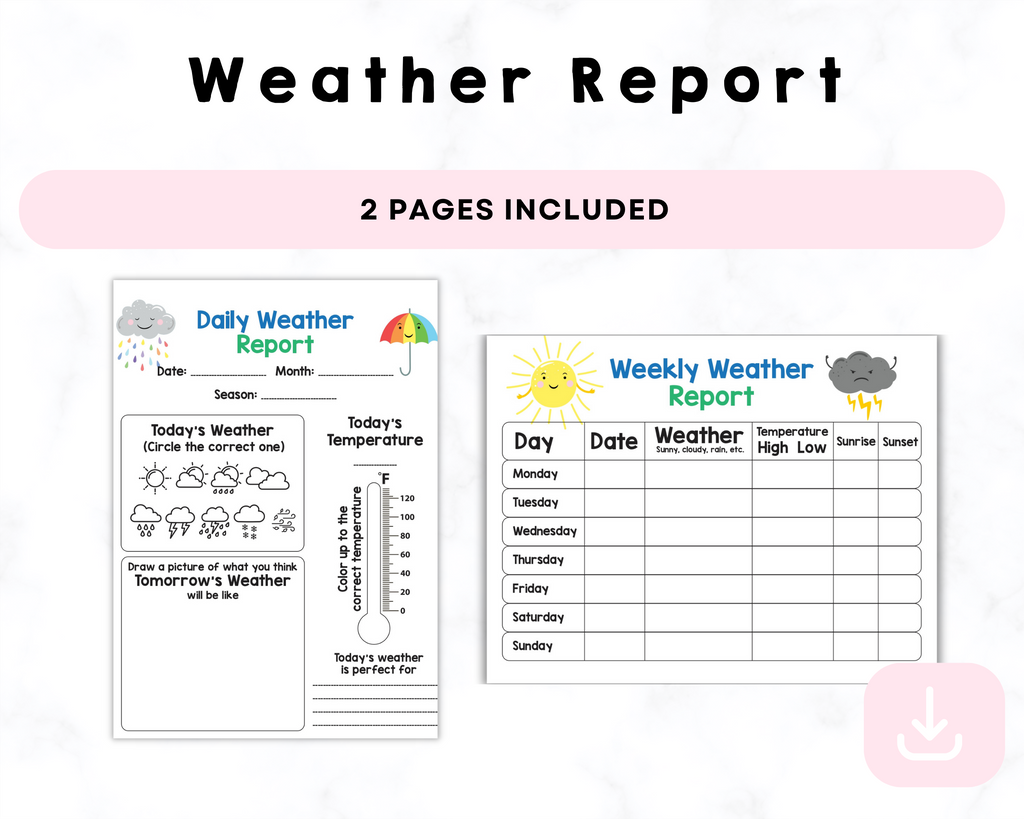 Weather Report Printable
Weather Report Printable
description
Introduce your little ones to the fascinating world of weather with our specially designed 2-page Weather Report Printable for preschoolers! This educational and engaging resource is perfect for budding meteorologists and curious minds eager to learn about the daily and weekly weather patterns.

** Daily Weather Report:**
Your child will delight in documenting each day's weather using adorable weather icons and simple descriptions. From sunny days to cloudy afternoons, this page allows them to understand and illustrate the changes in weather as the day progresses. Spark their creativity and observational skills as they interact with the elements!

** Weekly Weather Overview:**
Extend the learning adventure with a weekly weather overview. Help your child grasp the concept of a week while recording the weather for each day. Encourage them to compare, contrast, and predict the upcoming weather based on their observations. It's a delightful way to introduce basic calendar concepts and enhance their understanding of weather patterns over time.

Perfect for homeschooling, classroom activities, or rainy day entertainment, this 2-page Weather Report Printable is a valuable addition to your preschooler's learning toolkit. Get ready for sunny smiles and cloudy giggles as they embark on a weather-filled journey right from your home!

This is a digital product. No physical items will be shipped. After purchase, you will receive a link to download your printable pack.

Contact us
Crystal & Co.
P O Box 55263
Hurst, Texas 76054
crystalandcomp@yahoo.com
Sign up to our mailing list