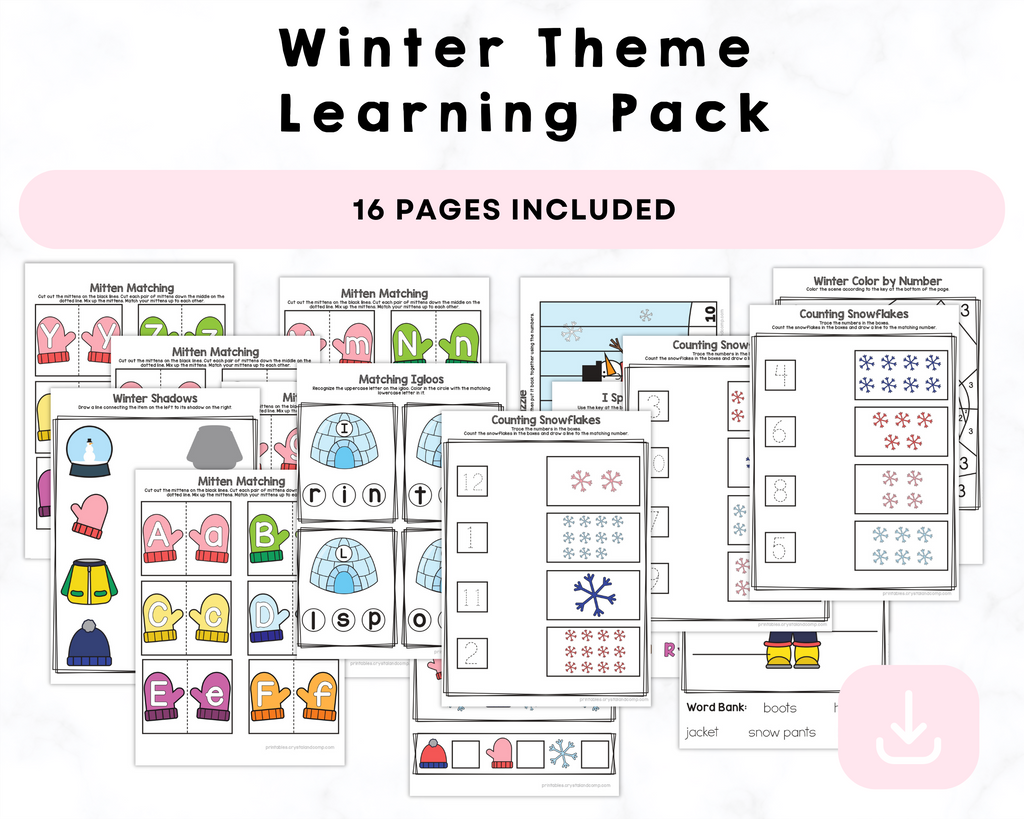 Winter Theme Learning Pack Printables
Winter Theme Learning Pack Printables
description
Introducing our 16-page Winter Theme Learning Pack Printables – a fun and educational resource designed for preschoolers. Packed with engaging activities, this set is crafted to make learning a joyous adventure during the winter season.

**Mittens Matching:**
Explore patterns and matching with our adorable mittens activity. Preschoolers will pair up mittens based on colors, patterns, and shapes, enhancing cognitive skills while having a blast.

2. **Winter Shadows:**
Unleash imagination with our captivating winter shadows activity. Little ones identify and match winter-themed shadows to objects, fostering creativity and visual recognition.

 **Icy Igloos Challenge:**
Take a journey through the icy landscape with our igloo matching game. This promotes critical thinking as preschoolers match and connect different parts of the igloos, exploring the wonders of winter.

*Counting Snowflakes:**
Turn counting into a winter escapade with our snowflake counting activity. From one to ten, children will enjoy counting and identifying numbers while interacting with charming snowflake illustrations.

 **Winter Color by Numbers:**
Add color to the winter wonderland with our color by numbers sheets. Preschoolers develop fine motor skills as they match colors to numbers, revealing beautiful winter scenes.


Embrace the magic of winter while fostering your child's development with our Winter Theme Learning Pack Printables. Download, print, and let the educational adventure begin!

Please note: This is a digital product. No physical items will be shipped. After purchase, you will receive a link to download your printable pack.

Contact us
Crystal & Co.
P O Box 55263
Hurst, Texas 76054
crystalandcomp@yahoo.com
Sign up to our mailing list