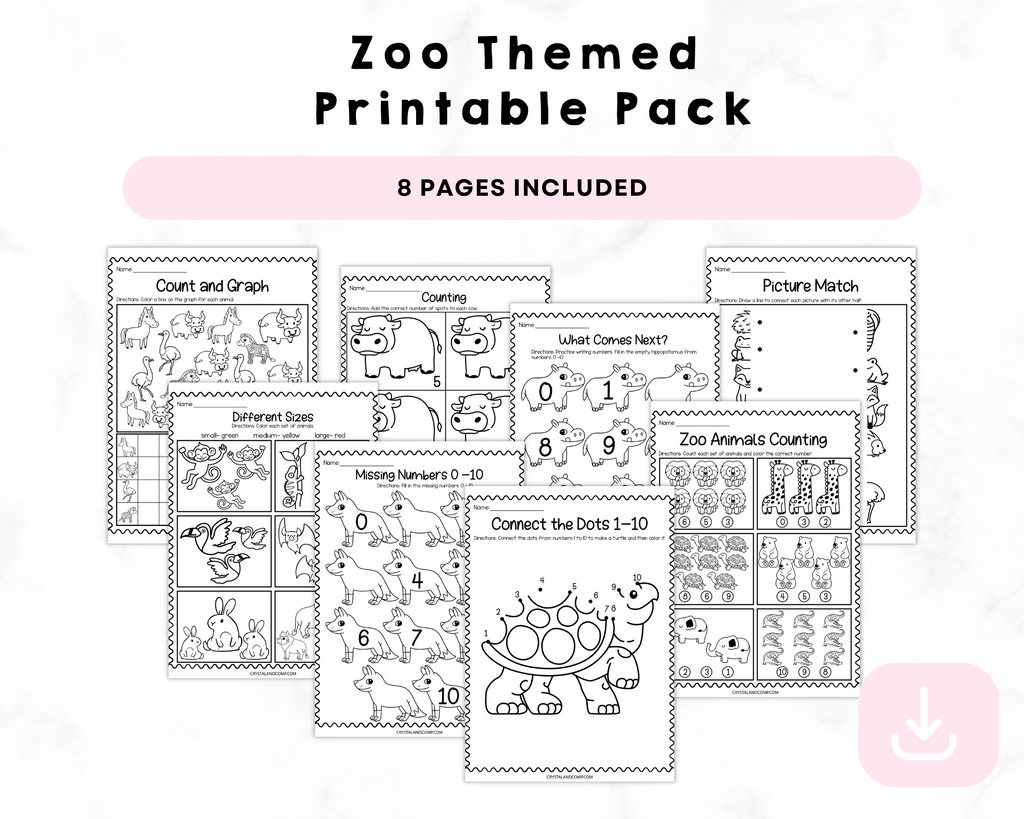 Zoo Themed Printable Pack
Zoo Themed Printable Pack
description
Introducing our Zoo Themed Printable Pack – a delightful 8-page collection designed to ignite the imagination and enhance early learning for preschoolers. This educational and entertaining bundle is perfect for parents, teachers, and caregivers looking to make learning engaging and enjoyable for young minds.

**Page 1: Zoo Animal Coloring**
Let your little ones unleash their creativity as they color charming zoo animals. From fierce lions to playful monkeys, each drawing is a canvas waiting for vibrant hues.

**Page 2: Connect the Dots**
Connect the dots to reveal adorable zoo animal illustrations, allowing young learners to practice their numbers while having a blast!

**Page 3: Different Sizes**
Introduce the concept of size with this page, where kids will compare and identify animals in varying sizes. A fun and interactive way to enhance their understanding of relative dimensions.

**Page 4: Counting Fun**
Let the counting adventures begin! Kids will have a blast counting zoo animals, reinforcing their numeracy skills while enjoying the vibrant illustrations.

**Page 5: Picture Match**
Stimulate cognitive development by encouraging preschoolers to match pictures of zoo animals. This activity sharpens memory and observational skills in an exciting and entertaining manner.

**Page 6: Zoo Animal Counting**
An extension of the counting fun, this page provides an opportunity for kids to count specific types of zoo animals, reinforcing their ability to identify and tally.

**Page 7: Missing Numbers**
Challenge young minds to fill in the missing numbers in sequences. This activity is perfect for enhancing number recognition and numerical order.

**Page 8: Safari Adventure**
Embark on a safari adventure with a delightful maze that adds an element of excitement and critical thinking to this printable pack. Help the zookeeper find their way to the zoo entrance!

Our Zoo Themed Printable Pack is carefully crafted to not only entertain but also foster a love for learning. Watch as your preschooler's knowledge and skills grow with each engaging activity. Get your hands on this amazing educational resource today, and let the zoo-inspired learning come alive!
Please note: This is a digital product. No physical items will be shipped. After purchase, you will receive a link to download your printable pack.
Contact us
Crystal & Co.
P O Box 55263
Hurst, Texas 76054
crystalandcomp@yahoo.com
Sign up to our mailing list