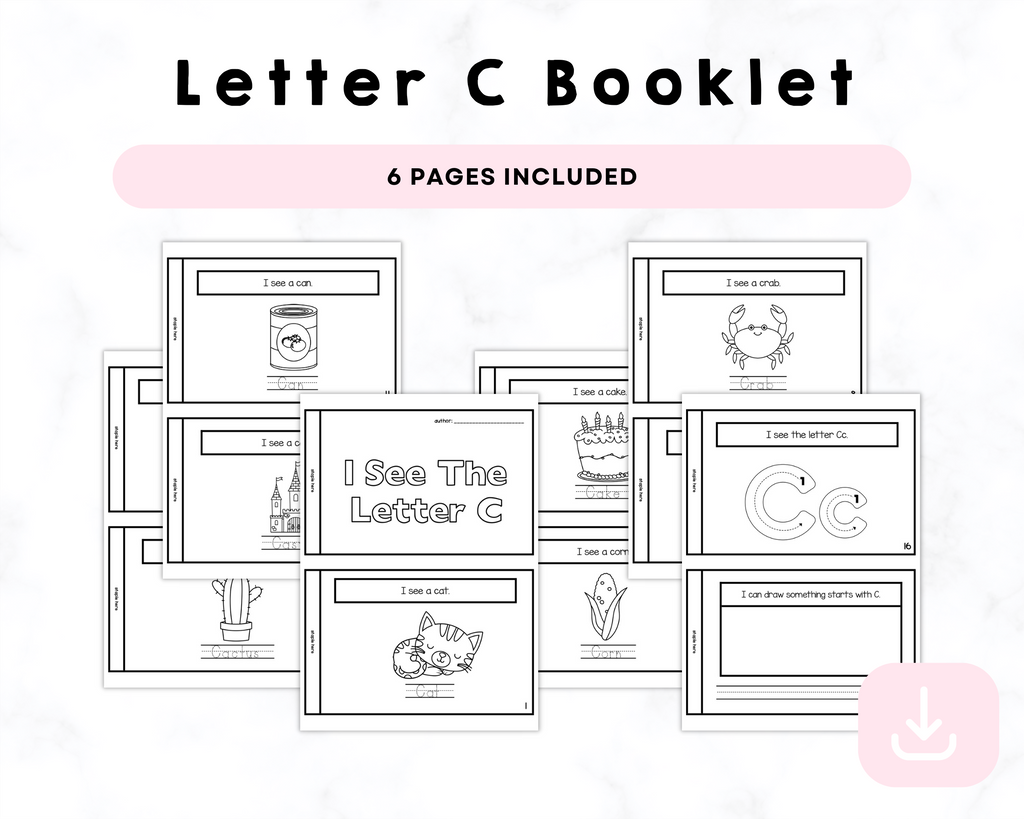 I See The Letter C Printable Book
I See The Letter C Printable Book
description
"I See The Letter C - Coloring, Tracing, and Creativity for Little Learners!"

Unlock the wonders of the alphabet with our enchanting "I See The Letter C" booklet - a delightful 6-page printable adventure crafted especially for curious preschool minds. This captivating booklet is not just a learning tool; it's a journey into the magical world of 'C' where colors, creativity, and letter recognition collide!

**Discover the Fun Inside:**

🌈 **Colorful Creations:** Dive into a world of vibrant illustrations as your little one explores and colors charming images that all begin with the letter 'C.' From cheerful "cats" to captivating "castles," each page is a canvas for their imagination.

🖍️ **Tracing Magic:** Watch as your child's fine motor skills blossom while they trace the names of the delightful 'C' images. Tracing "carrot," "cloud," and "cupcake" not only reinforces letter recognition but also sets the stage for confident handwriting.

**Why Choose "I See The Letter C" Booklet:**

🧠 **Cognitive Development:** Engage your child's cognitive skills with activities designed to stimulate their growing minds. From recognizing letters to enhancing motor control, this booklet is a holistic learning experience.

👩‍🎨 **Creativity Unleashed:** The combination of coloring, tracing, and letter recognition ensures your child develops a strong foundation for future academic success.

🏫 **Ideal for Home or Classroom:** Whether you're a parent, teacher, or caregiver, this booklet is a versatile tool for early childhood education. Use it at home for extra practice or in the classroom for interactive learning.

Bring the magic of the letter 'C' to life with our "I See The Letter C" booklet. Order now and watch as your preschooler's eyes light up with the joy of learning and discovery! 

Please note: This is a digital product. No physical items will be shipped. After purchase, you will receive a link to download your printable pack.

Contact us
Crystal & Co.
P O Box 55263
Hurst, Texas 76054
crystalandcomp@yahoo.com
Sign up to our mailing list