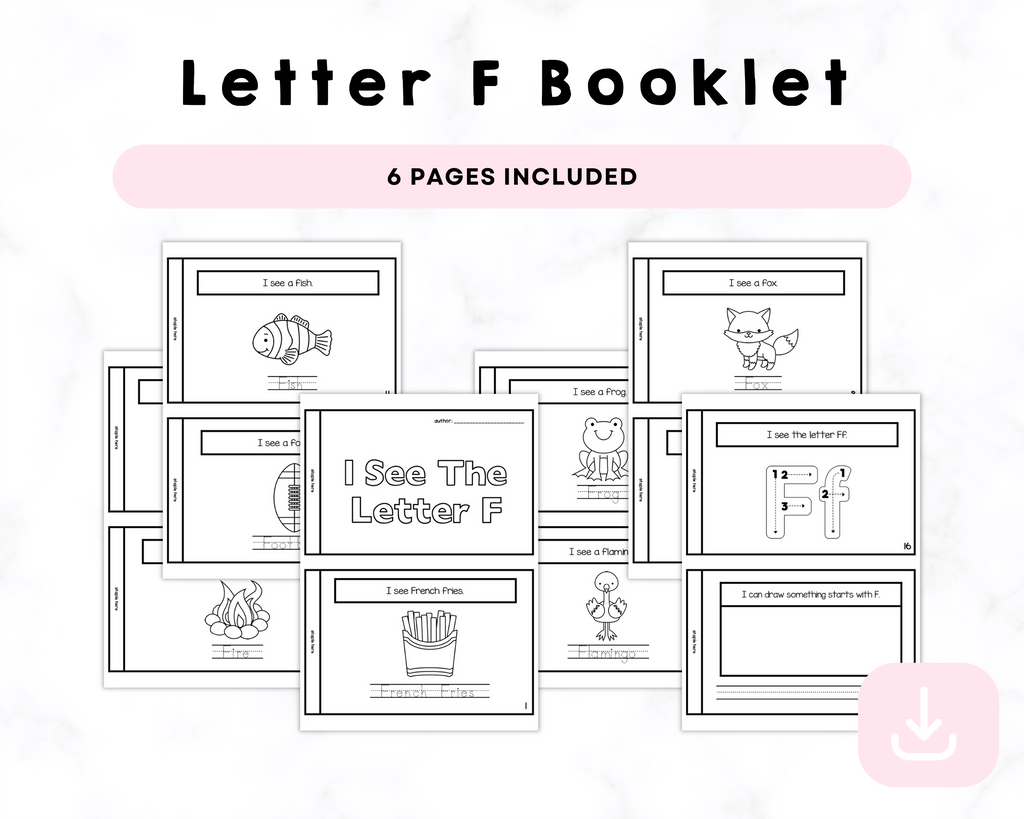 I See The Letter F Printable Book
I See The Letter F Printable Book
description
"I See The Letter F: 6-Page Coloring & Tracing Adventure for Preschoolers!"

Join the excitement of learning with our "I See The Letter F" booklet! This 6-page adventure is tailor-made for inquisitive preschoolers, blending creativity and early literacy in a captivating way.

**Highlights:**

🌈 **Coloring Fun:** Dive into a world of color with vibrant images like "fish" and "feathers." Each page is a canvas for creativity, making learning both enjoyable and visually stimulating.

🖍️ **Tracing Exploration:** Develop fine motor skills and letter recognition by tracing 'F' words. Your child will love tracing the outlines and writing the names of familiar images—a hands-on approach that sparks excitement.

🦊 **Friendly Foxes and More:** Meet adorable characters showcasing the versatility of the letter 'F.' From playful "foxes" to floating "flowers," your child will connect the letter to their surroundings.

📝 **Name Tracing:** Elevate the experience with a section for tracing image names. This personal touch helps your child recognize and associate the letter 'F' with the words they've colored and traced.

🌟 **Educational & Entertaining:** Give your child the perfect tool to enhance early literacy skills in a fun and interactive way.

Order the "I See The Letter F" booklet now! Watch your preschooler discover the magic of 'F' through coloring, tracing, and an enchanting world of words!


Please note: This is a digital product. No physical items will be shipped. After purchase, you will receive a link to download your printable pack.

Contact us
Crystal & Co.
P O Box 55263
Hurst, Texas 76054
crystalandcomp@yahoo.com
Sign up to our mailing list