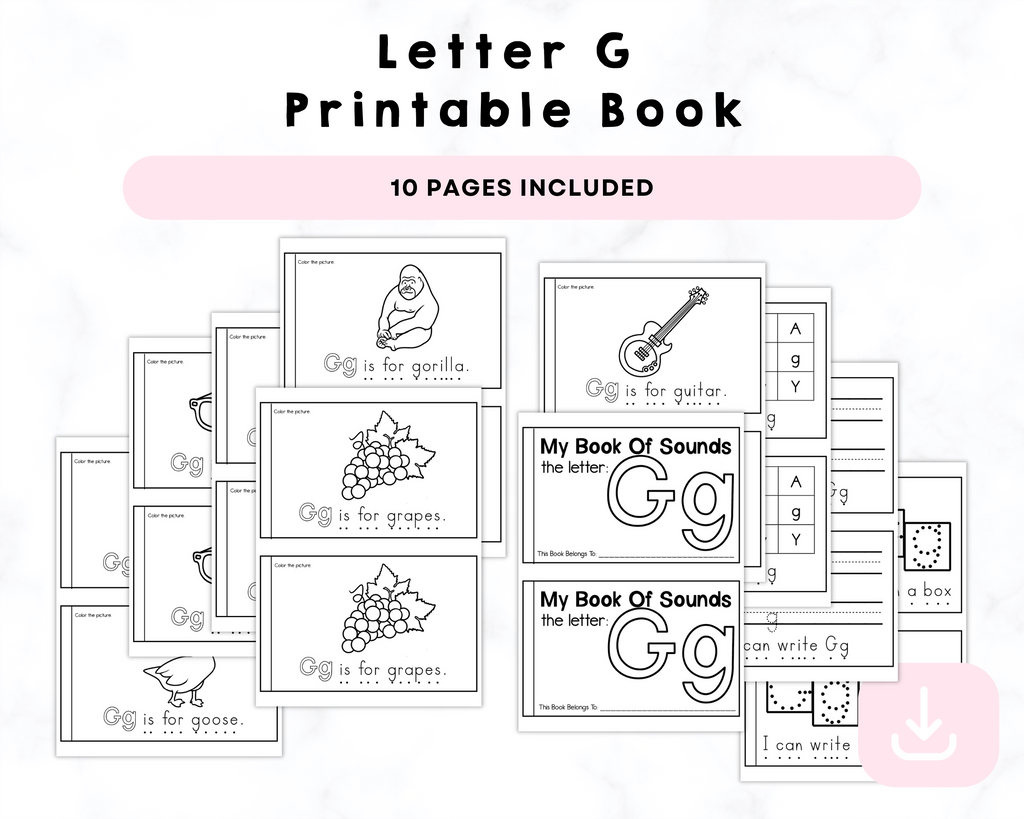 Letter G Printable Book
Letter G Printable Book
description
"Get Ready to Explore 'G' with Our 10-Page Preschool Activity Book!"

Prepare to embark on an educational journey that's as exciting as it is enlightening. Our 10-page preschool printable activity book is a gateway to the wondrous world of the letter 'G.' Whether you're a teacher looking for engaging classroom resources or a parent eager to support your child's learning, this resource is your key to success.

**What's Inside:**

🌟 **10 Pages of Learning Delight:** Dive into a world of adventure with 10 captivating pages, each dedicated to a letter of the alphabet. Today, let's immerse ourselves in the magic of 'G.'

🎨 **Vibrant Illustrations:** Our expertly crafted illustrations breathe life into words like "giraffe," "grape," and "globe." These visuals are not just captivating; they also aid memory and comprehension, making learning 'G' words a breeze.

🖋️ **Line Tracing:** We understand the importance of fine motor skills in early childhood development. That's why our book includes line tracing exercises, perfect for helping little hands gain confidence and precision as they trace 'G' shapes and words.

🌈 **Coloring Galore:** Fuel your child's creativity with pages for coloring 'G' images. From coloring a graceful "gazelle" to creating their own "garden" masterpieces, your child's artistic side will shine.

🏫 **Ideal for Educators:** Teachers, bring the magic of 'G' into your classroom. These worksheets are the perfect addition to your lesson plans, making letter recognition and writing a joy for your students.

👪 **Parents' Partner:** For parents, this activity book is a powerful tool to support your child's early education. Bond with your little one as you explore 'G' together and watch them grow in knowledge and confidence.

Unlock the world of 'G' in an interactive and fun way. Order now and witness the joy of learning flourish in your child's world.
Please note: This is a digital product. No physical items will be shipped. After purchase, you will receive a link to download your printable pack.
Contact us
Crystal & Co.
P O Box 55263
Hurst, Texas 76054
crystalandcomp@yahoo.com
Sign up to our mailing list