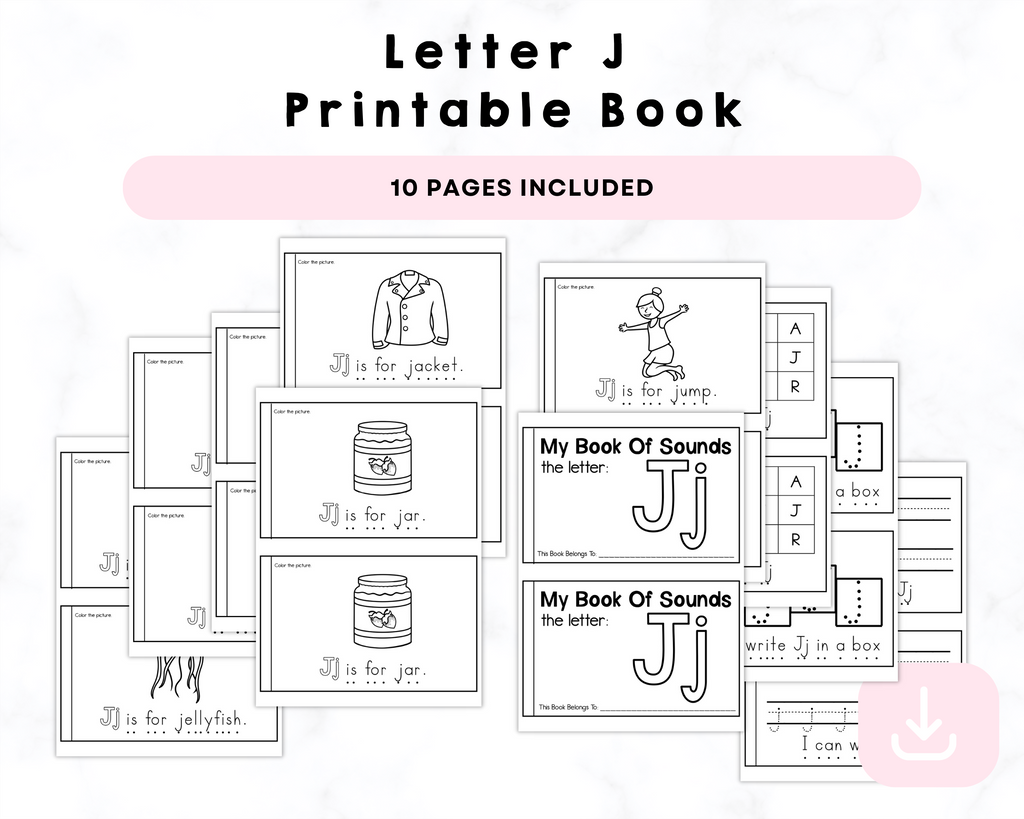 Letter J Printable Book
Letter J Printable Book
description
"Jump into Learning with our
10
-Page Preschool Printable Letter 'J' Activity Book!"
Unlock the world of letter 'J' for your little ones with our
10
-page preschool printable activity book, designed to inspire curiosity, creativity, and confidence in young learners. This engaging resource is perfect for both teachers and parents who want to make early education a delightful adventure.
🌟 **
10 
Pages of Exploration:** Dive into the world of 'J' as your child embarks on a journey of discovery. Each page is thoughtfully designed to introduce, reinforce, and celebrate the letter 'J' in a fun and interactive way.
🎨 **Line Tracing and Coloring:** Watch as your child's fine motor skills blossom through line tracing exercises, all while having a blast coloring their favorite 'J' words. From "jellyfish" to "jack-in-the-box," they'll bring these words to life with a burst of color.
🧩 **Find the 'J' Puzzle:** Challenge your child's cognitive skills with the 'Find the 'J'' puzzle. It's a playful way to encourage attention to detail and pattern recognition. Can they spot all the hidden 'J's in the jungle of letters?
🔊 **Mastering the 'J' Sound:** Help your child develop their phonemic awareness as they learn to pronounce words that begin with the 'J' sound. From "juice" to "jungle," they'll gain a strong foundation in phonics.
🌈 **Foster a Love for Learning:** Our activity book is designed to foster a love for learning and literacy in a playful and exciting way. Watch as your child's confidence grows with each page they complete.
Equip your little learner with the tools they need to jump into the world of 'J' and ignite their imagination today!
Please note: This is a digital product. No physical items will be shipped. After purchase, you will receive a link to download your printable pack.
Contact us
Crystal & Co.
P O Box 55263
Hurst, Texas 76054
crystalandcomp@yahoo.com
Sign up to our mailing list