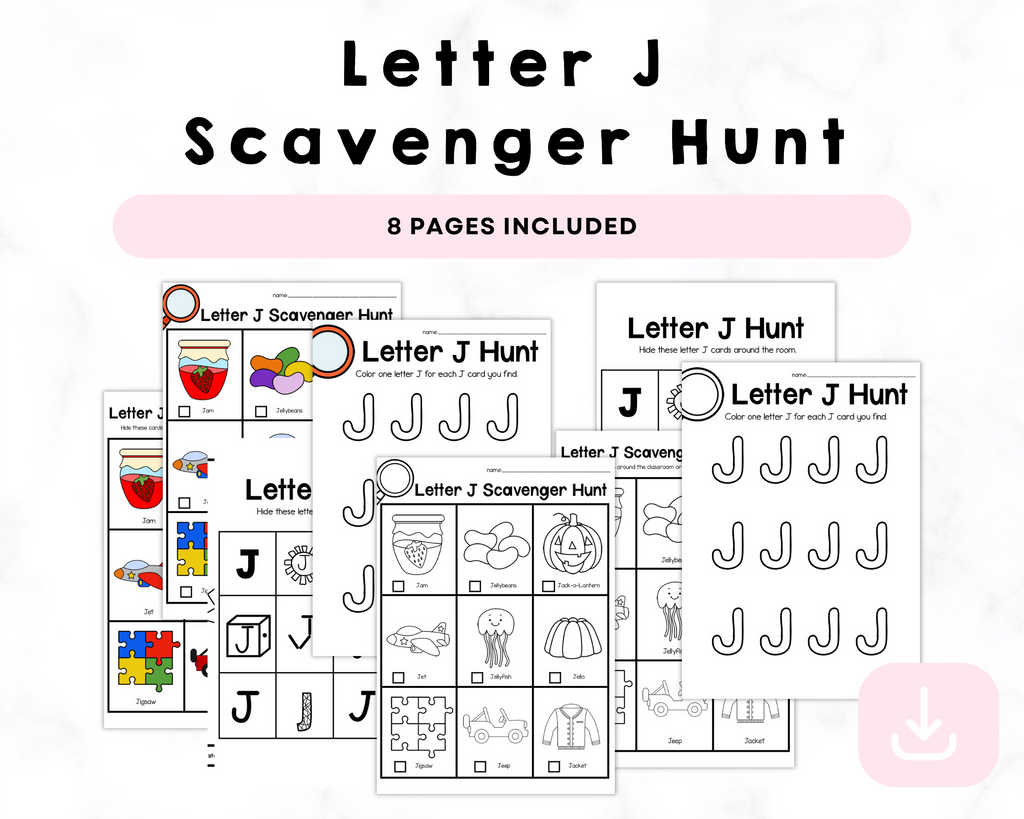 Letter J Scavenger Hunt Printables
Letter J Scavenger Hunt Printables
description
"Journey into Fun: 8-Page Letter 'J' Scavenger Hunt Printables - Discover, Color, and Learn!"


Embark on an exciting learning expedition with our 8-page Letter 'J' Scavenger Hunt Printables - the perfect blend of adventure, discovery, and creativity for your little one's growing mind.

**What's Inside:**

🔍 **Scavenger Hunt Thrills:** Transform ordinary learning into an extraordinary quest! With our scavenger hunt cards, your child will joyfully search for 'J' treasures, enhancing their observational skills and connecting the dots between letters and everyday objects.

🖍️ **Color the Journey:** As the little explorers discover each 'J' scavenger card, they can unleash their creativity by coloring the corresponding letter 'J' on each page. From "jungle" to "jellyfish," the possibilities for vibrant and imaginative coloring are endless!

🌈 **Engaging Learning:** These printables go beyond the typical alphabet exercise. They infuse excitement into education, making letter recognition a thrilling activity that leaves a lasting impression.

👩‍👦‍👦 **Family Bonding:** The scavenger hunt provides a fantastic opportunity for family involvement. Join in the search, celebrate each discovery, and witness the joy on your child's face as they proudly color their 'J' findings.


Please note: This is a digital product. No physical items will be shipped. After purchase, you will receive a link to download your printable pack.

Contact us
Crystal & Co.
P O Box 55263
Hurst, Texas 76054
crystalandcomp@yahoo.com
Sign up to our mailing list