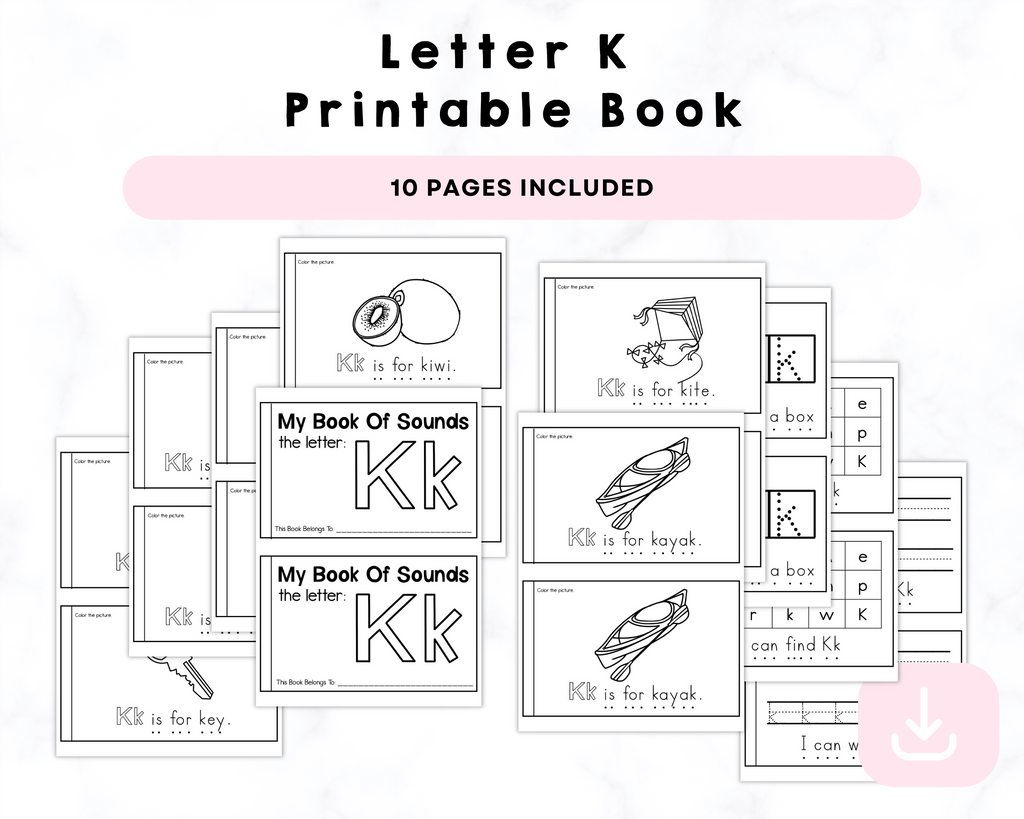 Letter K Printable Book
Letter K Printable Book
description
"Kaleidoscope of Learning:
10
-Page Preschool Printable Letter K Activity Book"
Unleash the power of "K" and embark on a captivating educational journey with our
10
-page preschool printable activity book. Designed to spark curiosity and nurture early literacy skills, this resource is a must-have for teachers and parents alike.
🌈 **Letter Tracing and Coloring:** Step into the world of "K" with our interactive line tracing and coloring pages. Watch your child's fine motor skills blossom as they trace and color images of "kite," "koala," and "king." These engaging activities make learning the letter "K" an absolute joy.
🧩 **K-Finding Puzzle:** Challenge young minds with our delightful "K-Finding" puzzles. Let them explore the pages to hunt for hidden "K" words. This activity not only sharpens observation skills but also reinforces letter recognition in a fun and exciting way.
🎼 **K Sound Play:** Dive into the world of phonics with our "K Sound Play" section. Your child will learn to associate the sound of "K" with real-life words, building a strong foundation for language skills. From "kangaroo" to "keyboard," the world of "K" sounds will come to life.
🍎 **Teacher's and Parent's Delight:** Our activity book is a valuable resource for both educators and parents. Teachers can incorporate these worksheets into their lesson plans, making learning the letter "K" a breeze. Parents can enjoy quality time with their children while witnessing their growth and development.
🌟 **Educational and Entertaining:** Learning has never been this much fun! Our activity book strikes the perfect balance between education and entertainment. It's the ideal tool to instill a love for learning in your child while they explore the wonders of the letter "K."
Please note: This is a digital product. No physical items will be shipped. After purchase, you will receive a link to download your printable pack.
Contact us
Crystal & Co.
P O Box 55263
Hurst, Texas 76054
crystalandcomp@yahoo.com
Sign up to our mailing list