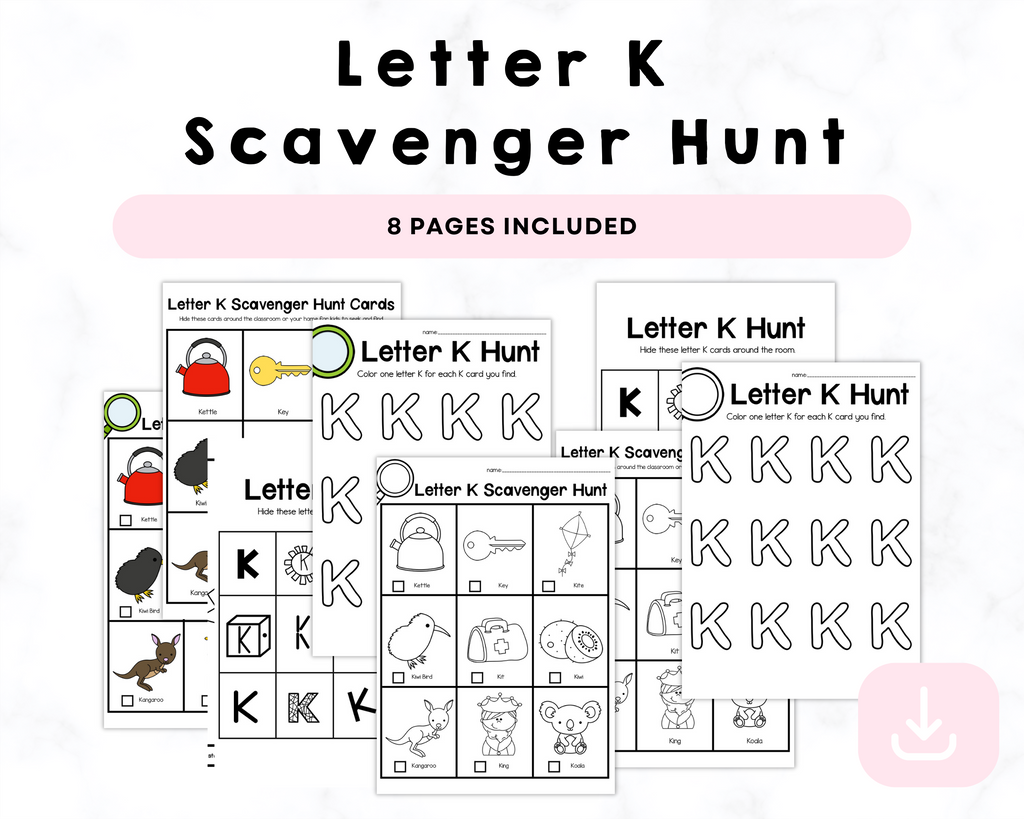 Letter K Scavenger Hunt Printables
Letter K Scavenger Hunt Printables
description
"Kaleidoscopic Letter 'K' Scavenger Hunt: 8 Pages of Adventure and Coloring Fun!"

Embark on a whimsical journey with our 8-page Letter 'K' Scavenger Hunt Printables – a captivating blend of discovery and creativity designed to make learning the letter 'K' a joyous experience for your little explorer.

**What's Included:**

🕵️‍♀️ **Scavenger Hunt Cards:** Let the adventure begin! Our scavenger hunt introduces your child to the magical world of the letter 'K.' With carefully crafted cards, they'll embark on a quest to find items starting with 'K' in their surroundings. It's a playful way to reinforce letter recognition and observation skills.

🎨 **Coloring Extravaganza:** Each scavenger hunt card is a work of art waiting to be brought to life! After successfully finding the 'K' items, your child can unleash their creativity by coloring the corresponding letter 'K' on the printable pages. From a king's crown to a kite in the sky, the coloring possibilities are as vast as their imagination.

🌈 **Educational Fun:** Watch as your child not only discovers the letter 'K' but also hones their fine motor skills through coloring and engages in critical thinking during the scavenger hunt.

📝 **Print and Play:** Convenience meets excitement! Our printables are easily accessible, allowing your child to dive into the adventure anytime, anywhere. Whether at home, in the classroom, or on the go, the Letter 'K' Scavenger Hunt is ready to spark their curiosity.

👶 **Perfect for Preschoolers:** Tailored for young minds, this scavenger hunt is an excellent addition to your preschooler's educational journey. It combines the thrill of a treasure hunt with the joy of coloring, creating a holistic learning experience that fosters letter recognition and creativity.

Unleash the magic of 'K' with our Scavenger Hunt Printables. Order now and let the exploration, discovery, and coloring extravaganza begin! Your child's educational adventure awaits.

Please note: This is a digital product. No physical items will be shipped. After purchase, you will receive a link to download your printable pack.


Contact us
Crystal & Co.
P O Box 55263
Hurst, Texas 76054
crystalandcomp@yahoo.com
Sign up to our mailing list