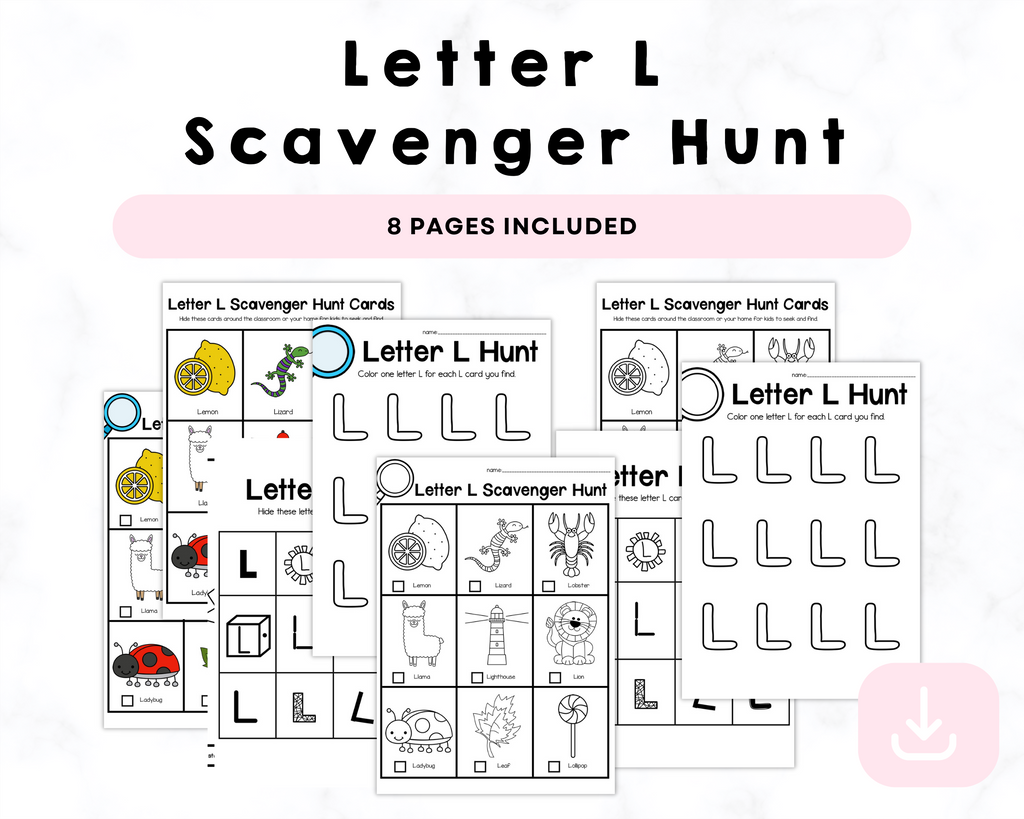 Letter L Scavenger Hunt Printables
Letter L Scavenger Hunt Printables
description
"Letter 'L' Scavenger Hunt: 8 Pages of Exciting Discovery and Coloring!"

Embark on a thrilling adventure with our 8-page Letter 'L' Scavenger Hunt Printables—a perfect blend of excitement, exploration, and creativity for your little one. This unique activity is crafted to make learning the letter 'L' an unforgettable experience!

🔍 **Scavenger Hunt Cards:** Immerse your child in the world of discovery with our thoughtfully designed 'L' scavenger hunt cards. From "lighthouse" to "lion," witness their vocabulary expand while having a blast!

🎨 **Color the Letter 'L':** The fun doesn't end with the scavenger hunt! After completing their quest, your child will delight in coloring the letter 'L,' reinforcing their recognition of this letter while expressing their creativity.

🌈 **Engaging and Educational:** This scavenger hunt not only enhances letter recognition but also nurtures observational skills and hand-eye coordination.

📝 **Printable Convenience:** Our Letter 'L' Scavenger Hunt Printables are easily accessible and printable from the comfort of your home. Simply download, print, and let the adventure begin! It's a hassle-free solution for parents and educators alike.

👶 **Perfect for Preschoolers:**  The simple yet effective design ensures they stay engaged while absorbing essential letter recognition skills.

Transform learning the letter 'L' into a joyous experience for your child with our Scavenger Hunt Printables. Order now and witness them explore, discover, and color their way to letter mastery! 

Please note: This is a digital product. No physical items will be shipped. After purchase, you will receive a link to download your printable pack.

Contact us
Crystal & Co.
P O Box 55263
Hurst, Texas 76054
crystalandcomp@yahoo.com
Sign up to our mailing list