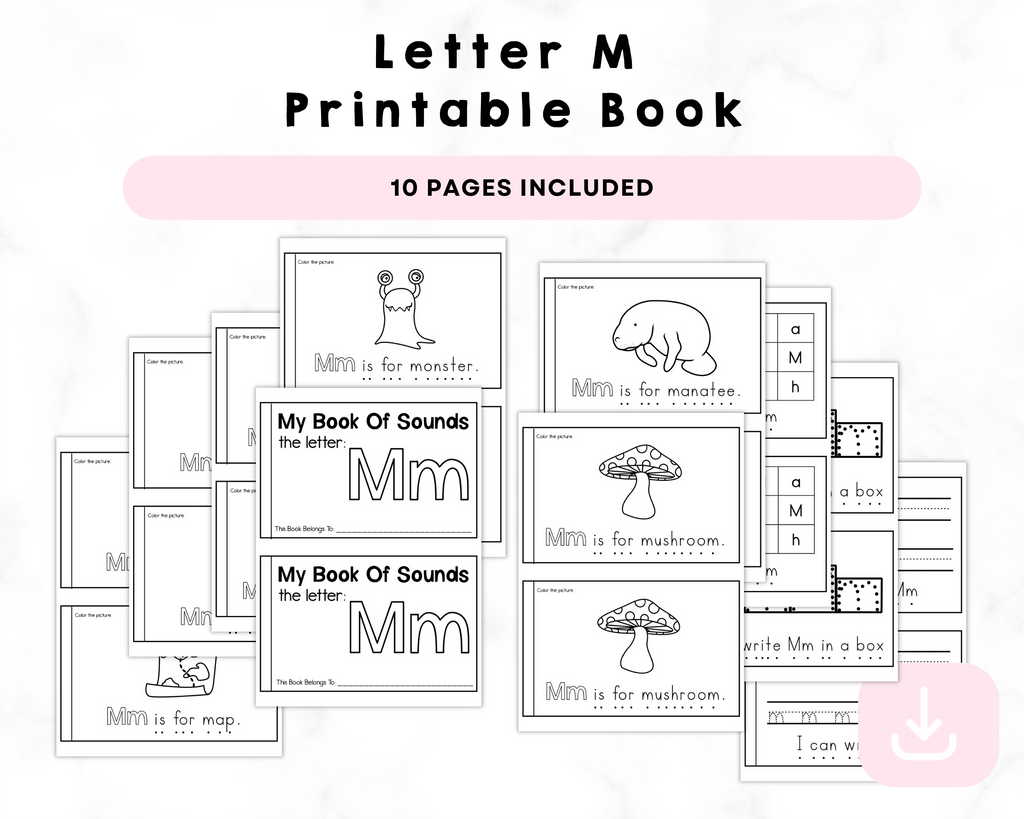 Letter M Printable Book
Letter M Printable Book
description
 
"Marvelous Letter 'M' Activity Book for Preschoolers: Mastering the Magic of M!"

Unlock the world of learning and creativity for your little one with our enchanting10-page preschool printable activity book - an educational treasure that will make their early years unforgettable. Dive into the captivating realm of the letter 'M' with this extraordinary resource, designed to spark joy in young minds.

🌟 ** Pages of Fun:** One for each letter of the alphabet, and today's adventure centers around the magical 'M'! Your child will embark on a journey of discovery, mastering the art of recognizing, writing, and pronouncing words that start with the letter 'M.'

🌈 **Vibrant Illustrations:** Our captivating illustrations breathe life into words like "moon," "monkey," and "magnificent." These colorful images are not only visually appealing but also serve as powerful memory aids, ensuring that 'M' stays with your child forever.

🖋️ **Line Tracing:** Boost your child's fine motor skills with engaging line tracing exercises that help them write the letter 'M' with precision and confidence. It's a critical step towards mastering the magic of 'M.'

🎨 **Coloring Adventures:** Fuel your child's creativity with pages dedicated to coloring their favorite 'M' words. From coloring a mesmerizing "mermaid" to creating their own "mystical" landscapes, the possibilities are endless, and their artistic talents will shine.

🧩 **Finding 'M' Puzzles:** Challenge your child's cognitive abilities with 'M' word search puzzles. It's not just fun; it's an opportunity to enhance their problem-solving skills while searching for hidden 'M' treasures.

🔊 **M Sound Exploration:** Immerse your child in the world of sounds with 'M' sound recognition activities. They'll learn to identify and associate the 'M' sound with words they've encountered in the book, solidifying their phonetic skills.

Prepare your child for a future of wonder and learning with our 'Marvelous Letter 'M' Activity Book for Preschoolers.' Every page is a stepping stone towards academic excellence and a lifetime of curiosity. Make learning magical and memorable with this exceptional resource.
Please note: This is a digital product. No physical items will be shipped. After purchase, you will receive a link to download your printable pack.
Contact us
Crystal & Co.
P O Box 55263
Hurst, Texas 76054
crystalandcomp@yahoo.com
Sign up to our mailing list