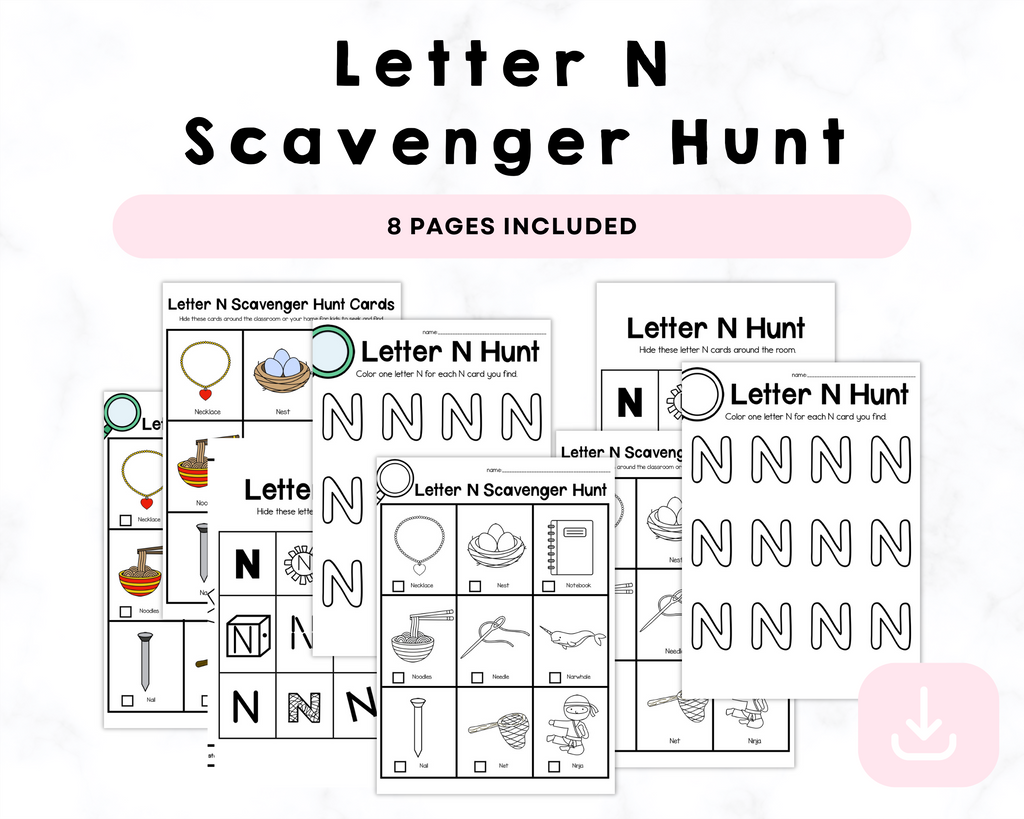 Letter N Scavenger Hunt Printables
Letter N Scavenger Hunt Printables
description
"Enchanting Letter 'N' Scavenger Hunt Printables: Nurturing Knowledge through Adventure!"

Prepare your little explorer for a thrilling educational quest with our 8-page Letter 'N' Scavenger Hunt Printables! Crafted with care, this enchanting set is designed to make learning the letter 'N' an unforgettable adventure for your young learner.

**Why Parents Love It:**

🔍 **Engaging Exploration:** Turn learning into an exciting treasure hunt! The scavenger hunt cards on each page challenge your child to seek out and identify captivating 'N' objects. From cozy "nests" to majestic "narwhals," every discovery sparks joy and reinforces letter recognition.

🎨 **Creativity Unleashed:** Once the scavenger is triumphantly found, the coloring extravaganza begins! Your child will revel in coloring the beautifully designed letter 'N' after identifying and connecting with the objects. It's more than just coloring; it's a hands-on adventure that enhances fine motor skills and sparks creativity.

👀 **Visually Stimulating:** The vibrant visuals on every page captivate young minds. Carefully crafted illustrations breathe life into each 'N' word, ensuring the learning experience is not only educational but also visually engaging and enchanting.

🌈 **Educational Excitement:** With 8 carefully curated pages, this set guarantees continuous captivation throughout the 'N' adventure. It's a perfect balance of education and entertainment, fostering a love for learning in a delightful and immersive way.

📚 **Parent-Approved Learning:** Witness your child's vocabulary blossom, observational skills sharpen, and creativity flourish as they embark on this educational journey.

Elevate their education with joy and excitement! 


Please note: This is a digital product. No physical items will be shipped. After purchase, you will receive a link to download your printable pack.

Contact us
Crystal & Co.
P O Box 55263
Hurst, Texas 76054
crystalandcomp@yahoo.com
Sign up to our mailing list