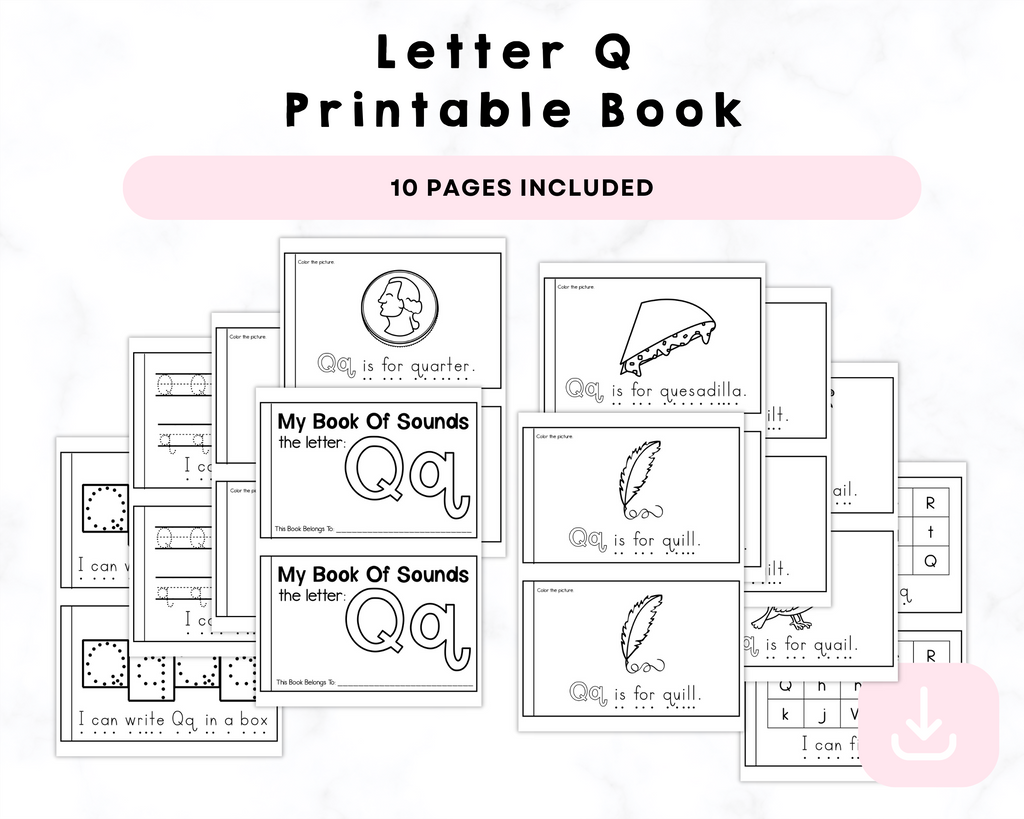 Letter Q Printable Books
Letter Q Printable Books
description
"Quirky 'Q' Quest: 10-Page Preschool Printable for Letter 'Q' Exploration"


Prepare your little explorer for an enchanting journey through the quirky world of the letter 'Q' with our 10-page preschool printable activity book. Engaging and educational, this resource is designed to make learning a thrilling adventure for your child.


🌟 **10 Pages of Discovery:** This activity book is your child's passport to the captivating realm of the alphabet, and today, we embark on a quest dedicated to the letter 'Q.' With a page for each letter of the alphabet, your child will be immersed in the world of 'Q.'

🎨 **Line Tracing and Coloring:** Help your child master letter 'Q' through guided line tracing and vibrant coloring pages. From tracing the curvy 'Q' to coloring a quirky "quokka," they'll gain confidence in letter formation while having fun.

🧩 **Find the 'Q' Puzzle:** Challenge your child's observation skills with the 'Find the 'Q'' puzzle. Hidden among a delightful scene, they'll seek out all things starting with the letter 'Q.' This puzzle adds an element of excitement to the learning process.

🔊 **Q Sound Exploration:** Immerse your child in the sounds of 'Q.' Listen to the gentle "quack" of a duck or the subtle "quiet" of a library. This interactive sound exploration makes learning phonetics a breeze.

📚 **Educational and Entertaining:** Our activity book strikes the perfect balance between education and entertainment, making it an ideal tool for parents and teachers alike. The 'Quirky 'Q' Quest' will keep your child engaged and excited about learning.

This delightful resource is the perfect addition to your child's educational journey. Dive into the world of 'Q' with us, where learning is an exciting adventure. Grab your copy today and watch your child's enthusiasm for letters grow!


Please note: This is a digital product. No physical items will be shipped. After purchase, you will receive a link to download your printable pack.

Contact us
Crystal & Co.
P O Box 55263
Hurst, Texas 76054
crystalandcomp@yahoo.com
Sign up to our mailing list