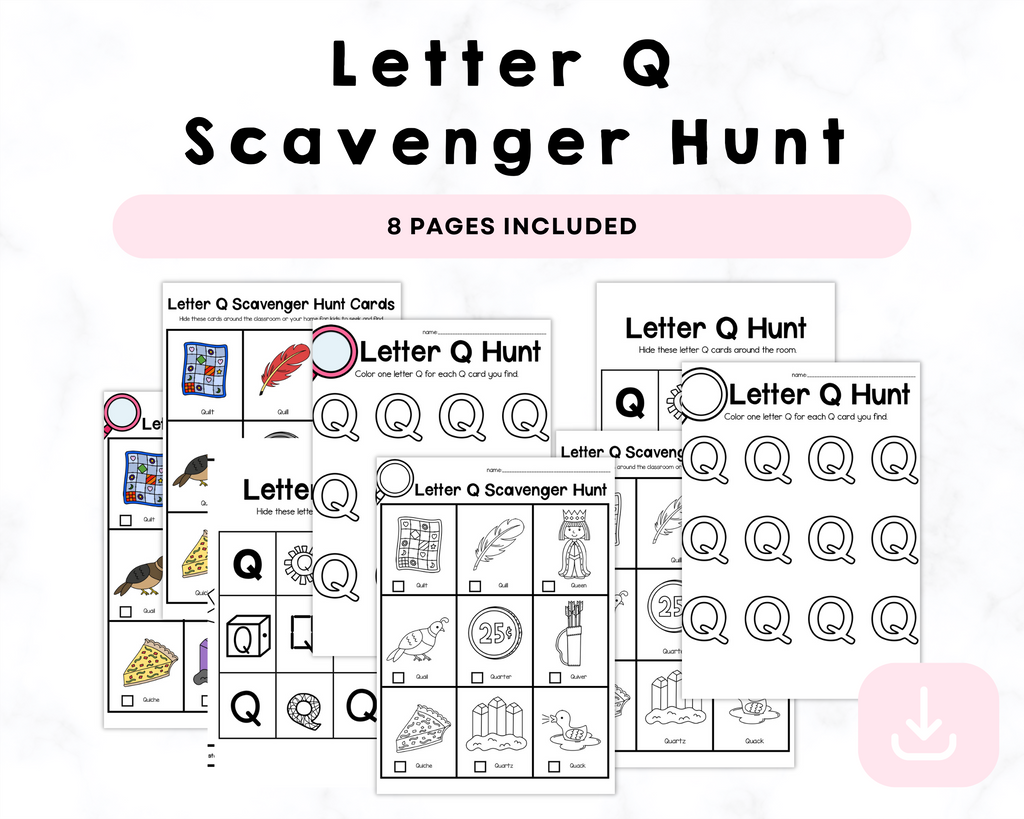 Letter Q Scavenger Hunt Printables
Letter Q Scavenger Hunt Printables
description
"Quest for 'Q' - 8-Page Letter Q Scavenger Hunt & Coloring Printables!"

Embark on an enchanting quest with our 8-page Letter Q Scavenger Hunt Printables – a unique blend of adventure, learning, and creativity. Perfect for little explorers, this pack promises a delightful journey through the world of the elusive letter 'Q.'

**What's Inside:**

🔍 **Scavenger Hunt Cards:** Your child's quest begins with a collection of charming scavenger hunt cards. From a majestic "queen" to a quirky "quilt," these cards will have your little one eagerly searching for 'Q' wonders in the world around them.

🖍️ **Coloring Extravaganza:** The excitement doesn't end with the scavenger hunt! Once your little explorer finds a scavenger card, they get to bring the letter 'Q' to life with our engaging coloring pages. Watch as their imagination takes flight with each stroke of the crayon.

🌈 **Educational Fun:**  Explore the world of 'Q' with carefully crafted scavenger hunt cards, designed to make learning fun and engaging.

👑 **Royal Rewards:** Completing the scavenger hunt and coloring activities brings royal rewards! Your child not only hones their observation skills but also gains a sense of accomplishment as they proudly display their colorful 'Q' creations.

🎉 **Perfect for Playdates and Parties:** Keep the little ones entertained, engaged, and learning while having a blast.

📚 **Easy Accessibility:**  You can download and print these delightful activities, providing a hassle-free way to enhance their child's learning experience.

Fuel the curiosity and creativity of young minds with this Letter Q Scavenger Hunt. Order now and let the quest for knowledge and fun begin! 

Please note: This is a digital product. No physical items will be shipped. After purchase, you will receive a link to download your printable pack.


Contact us
Crystal & Co.
P O Box 55263
Hurst, Texas 76054
crystalandcomp@yahoo.com
Sign up to our mailing list