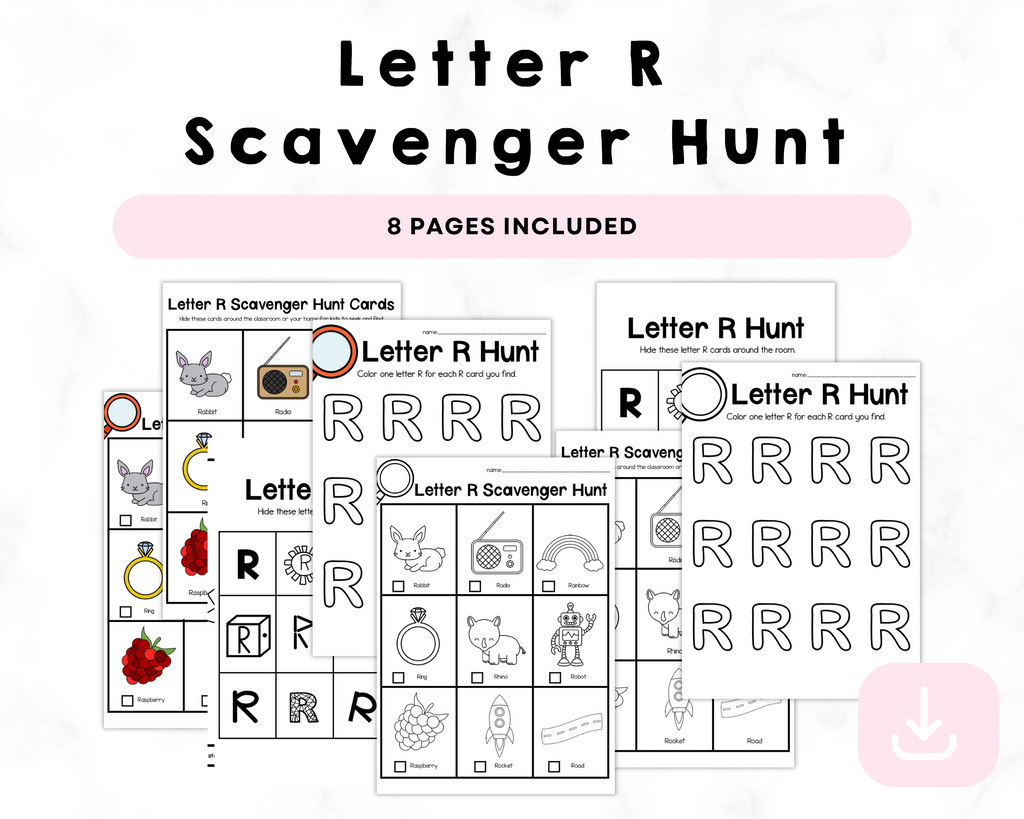 Letter R Scavenger Hunt Printables
Letter R Scavenger Hunt Printables
description

"Roaring Letter 'R' Scavenger Hunt: 8 Pages of Fun for Preschool Explorers!"

Embark on a thrilling letter 'R' scavenger hunt with our enchanting 8-page printables designed to captivate and educate your little preschooler. Transform learning into an exciting quest as they discover, color, and master the art of the letter 'R'!

**What Awaits Your Little Explorer:**

🕵️‍♂️ **Scavenger Hunt Cards:** Embark on an exciting journey with scavenger hunt cards showcasing different 'R' words. Your little one will be on a mission to spot and match them, from a royal "rabbit" to a colorful "rainbow," turning learning into an engaging adventure!

🖍️ **Coloring the 'R':** Unleash your child's creativity as they color the letter 'R' once they've successfully located and matched the scavenger hunt cards. Watch as the plain 'R' transforms into a masterpiece with every stroke of their imagination.

🧩 **Engaging and Educational:** Foster cognitive development, observation skills, and creativity with this delightful letter 'R' scavenger hunt.

👩‍🏫 **Perfect for Home or Classroom:** Whether it's at home or in the classroom, these printables are a versatile tool for teachers, parents, and caregivers. Turn learning into an interactive experience that leaves a lasting impact on your little one's early literacy journey.

🌈 **Visual and Tactile Learning:** The combination of visual cards and hands-on coloring creates a multi-sensory learning experience. It's a proven method to enhance letter recognition and fine motor skills while keeping the excitement alive.

🎉 **Order Now for Adventure:** Elevate the learning experience for your preschooler with our Letter 'R' Scavenger Hunt Printables. As they explore, discover, and color, they'll be building a strong foundation for language skills in a way that feels like play.


Please note: This is a digital product. No physical items will be shipped. After purchase, you will receive a link to download your printable pack.

Contact us
Crystal & Co.
P O Box 55263
Hurst, Texas 76054
crystalandcomp@yahoo.com
Sign up to our mailing list