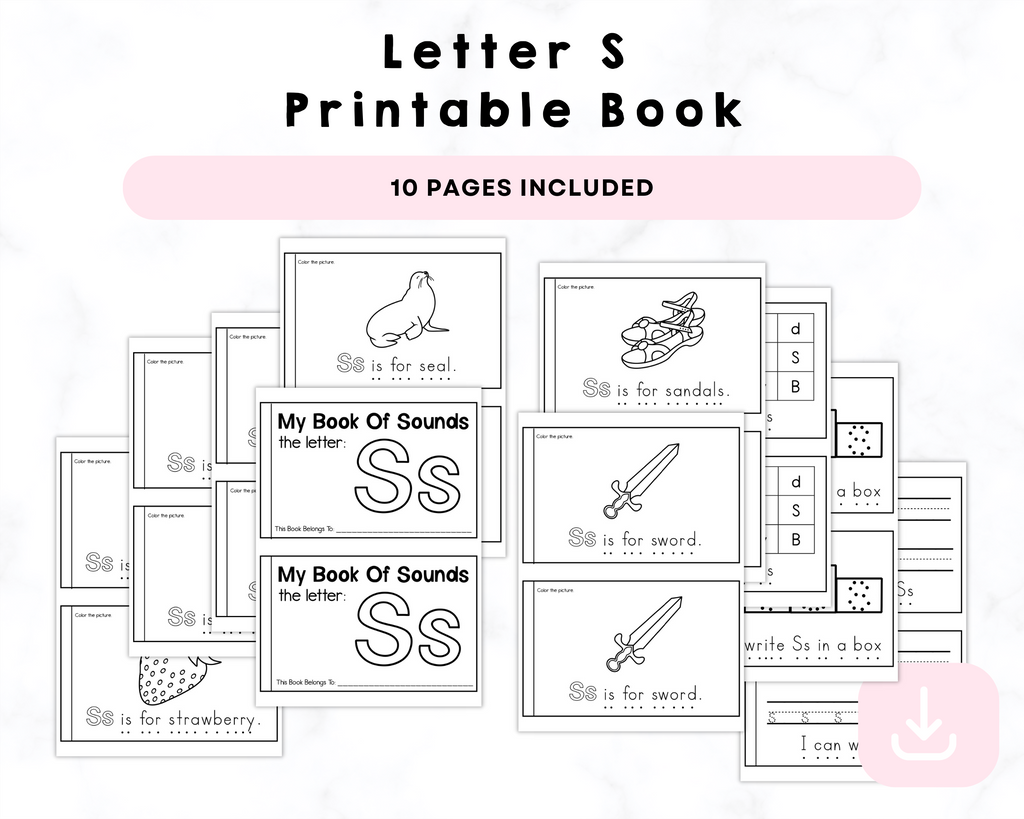 Letter S Printable Book
Letter S Printable Book
description

"Sensational Letter 'S' Adventure: Tracing, Coloring, Puzzles, and Sounds!"

Step into the extraordinary world of the letter 'S' with our 10-page preschool printable activity book - a wondrous journey designed to ignite your child's creativity, fine motor skills, and early literacy all at once.

🌟 **10 Pages of Excitement:** Our activity book is a treasure trove of 10 captivating pages, each dedicated to a different letter of the alphabet. Today, we set sail on the 'S' adventure, where your child will embark on an exploration of all things 'S'!

🎨 **Line Tracing and Coloring:** Spark your child's artistic flair with pages for line tracing and coloring images that start with the letter 'S.' From tracing a sleek "snake" to coloring a splendid "sun," they'll master letter formation while having a blast.

🧩 **Find the 'S' Puzzle:** Engage your child's problem-solving skills with the 'Find the 'S'' puzzle. This interactive activity encourages them to identify and circle 'S' words hidden among other letters. It's a brain-teasing adventure that's both fun and educational.

🔊 **S is for Sound:** Dive into the world of phonetics and sounds with the 'S' sound exploration. Your child will learn how to pronounce and differentiate 'S' words through engaging sound exercises, making phonics a breeze.


Watch as your little one becomes a confident reader and writer, all while having an amazing time with our 'S' adventure. Order now and let the learning begin!

Please note: This is a digital product. No physical items will be shipped. After purchase, you will receive a link to download your printable pack.

Contact us
Crystal & Co.
P O Box 55263
Hurst, Texas 76054
crystalandcomp@yahoo.com
Sign up to our mailing list