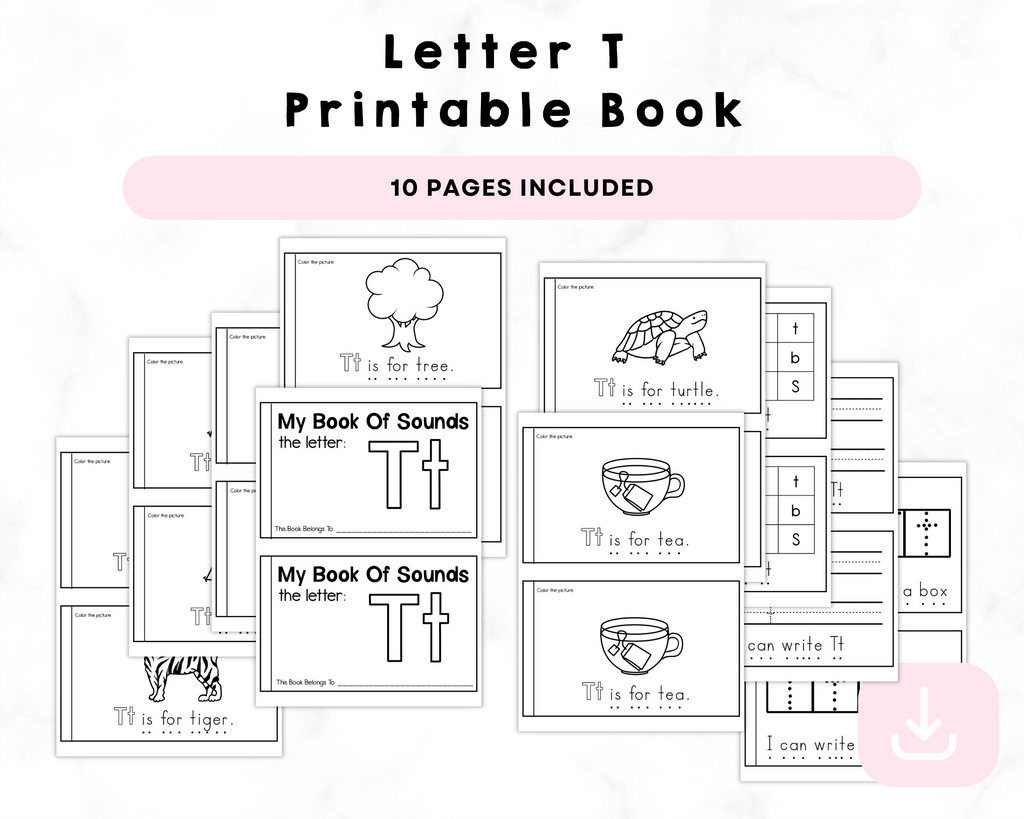 Letter T Printable Book
Letter T Printable Book
description
Introducing our captivating "Terrific Letter T Adventure," a 10-page preschool printable that takes your child on a magical journey through the world of the letter "T." This engaging printable includes line tracing and coloring activities, an exciting "T" treasure hunt, and a symphony of "T" sounds to keep your child entertained and educated.

🎨 *Creative Tracing and Coloring:* Your child can enhance their fine motor skills by tracing and coloring images that all begin with the letter "T," from turtles to trees and more.

🧩 *Exciting Treasure Hunt:* Keep your little one engaged with a captivating "T" treasure hunt. They'll navigate a maze of "T" words, developing cognitive skills and sparking curiosity.

🔊 *Phonics Fun:* Immerse your child in the world of phonics as they enjoy a variety of delightful "T" sounds, making learning entertaining and educational.

📚 *Educational Adventure:* Our printable isn't just fun; it's an educational masterpiece designed to boost literacy skills, build vocabulary, and promote letter recognition.

🌈 *Vibrant Visuals:* Each page is a colorful masterpiece designed to engage young minds, ensuring your child is eager to explore, learn, and play.


Unleash the magic of the letter "T" and ignite your child's imagination with our "Terrific Letter T Adventure." Watch as they develop essential skills while having a blast. Get your 10-page preschool printable today and let the enchantment begin! 🌠🔤🎉

Please note: This is a digital product. No physical items will be shipped. After purchase, you will receive a link to download your printable pack.


Contact us
Crystal & Co.
P O Box 55263
Hurst, Texas 76054
crystalandcomp@yahoo.com
Sign up to our mailing list