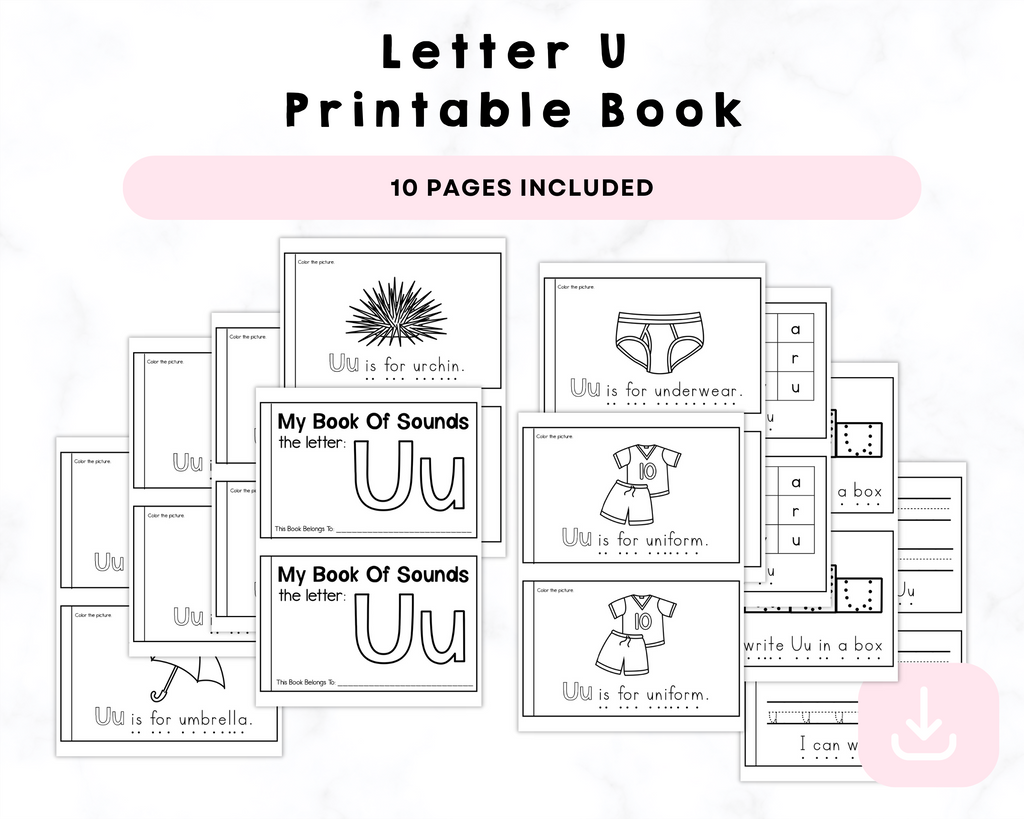 Letter U Printable Book
Letter U Printable Book
description
Our 10-page Preschool Printable Letter U Activity Pack is designed to engage young learners in a fun and educational exploration of the letter "U." This pack is a treasure trove of engaging activities, including line tracing and coloring images, a "finding U" puzzle, and "U" sound exercises, making it the ideal choice for preschoolers curious about the alphabet.

🖍 *Line Tracing and Coloring* 🎨
From unicorns to umbrellas and ukuleles, your child will love tracing and coloring these captivating "U" words. This activity boosts fine motor skills and sparks creativity.

🧩 *Finding U Puzzle* 🧩
Embark on an exciting treasure hunt to discover hidden "U" gems. This puzzle not only sharpens visual perception but also problem-solving skills, boosting your child's confidence with each find.

🔊 *U Sound Adventures* 🔊
Immerse your child in the melodious world of the letter "U." Engaging activities will help them recognize and pronounce the "U" sound effortlessly, adding a delightful twist to words like "unicorn" and "uplifting."

Our activity pack is more than just worksheets; it's a portal to a world of knowledge and creativity. Children can explore the magic of language and letters in an interactive way.

Please note: This is a digital product. No physical items will be shipped. After purchase, you will receive a link to download your printable pack.

Contact us
Crystal & Co.
P O Box 55263
Hurst, Texas 76054
crystalandcomp@yahoo.com
Sign up to our mailing list