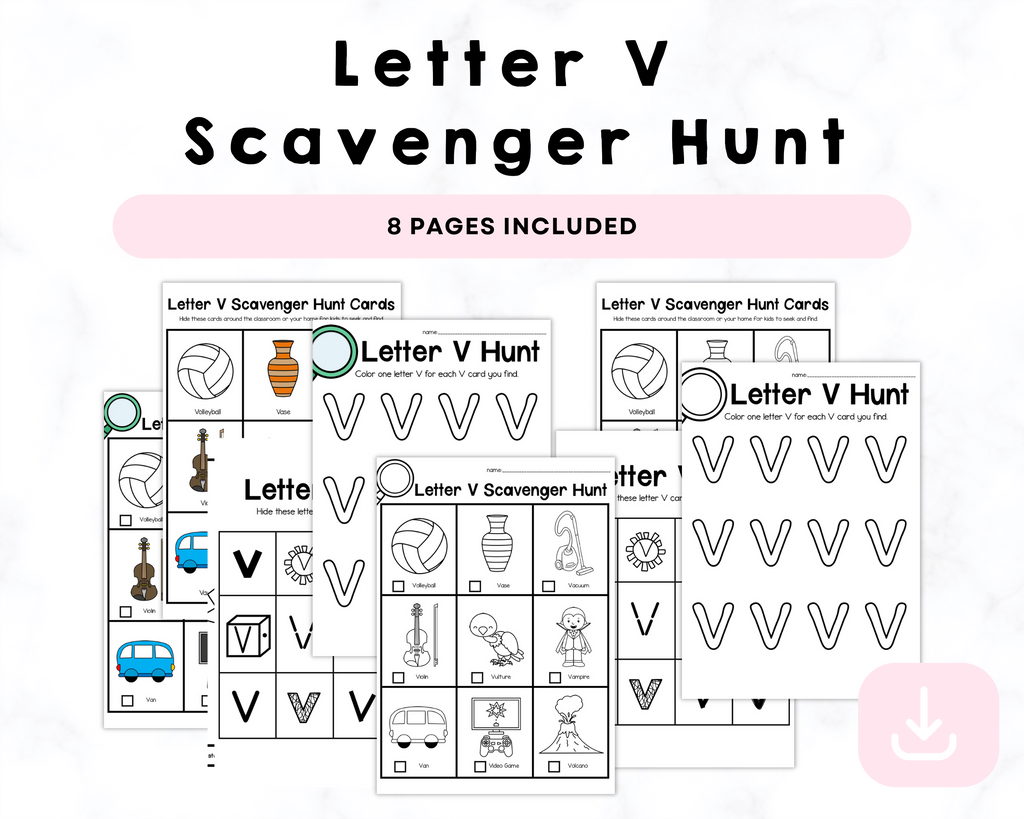 Letter V Scavenger Hunt Printables
Letter V Scavenger Hunt Printables
description
"Vibrant Letter 'V' Scavenger Hunt: Discover, Color, Learn!"


Explore the world of 'V' with our 8-page Letter V Scavenger Hunt Printables for preschoolers. Engage your little one in an exciting adventure of discovery as they find 'V' scavenger cards and bring the letter to life with coloring fun!

🔍 **Scavenger Hunt Fun:** Turn learning into an adventure! These printables feature an engaging scavenger hunt with 'V' cards hidden throughout. Watch as your child's eyes light up with joy when they find and identify items that start with the letter 'V.'

🎨 **Coloring Galore:** After each discovery, the coloring begins! Let your little artist unleash their creativity by coloring the letter 'V' on each page. It's a simple yet effective way to reinforce letter recognition and fine motor skills.

👶 **Perfect for Preschoolers:** Designed with simplicity in mind, these printables are tailored for preschoolers, making learning enjoyable and age-appropriate. Ideal for at-home activities or as a delightful addition to preschool lessons.

🖨️ **Easy Printing:** With just a few clicks, they'll have engaging educational content ready for their little ones.

🌈 **Educational and Entertaining:** Combining the thrill of a scavenger hunt with the joy of coloring, these printables create a harmonious blend of education and entertainment. Make learning 'V' words a delightful experience for your preschooler!

Make learning 'V' a breeze for your little explorer. Add these Letter V Scavenger Hunt Printables to your cart now and watch as they embark on a colorful journey of discovery!

Please note: This is a digital product. No physical items will be shipped. After purchase, you will receive a link to download your printable pack.



Contact us
Crystal & Co.
P O Box 55263
Hurst, Texas 76054
crystalandcomp@yahoo.com
Sign up to our mailing list