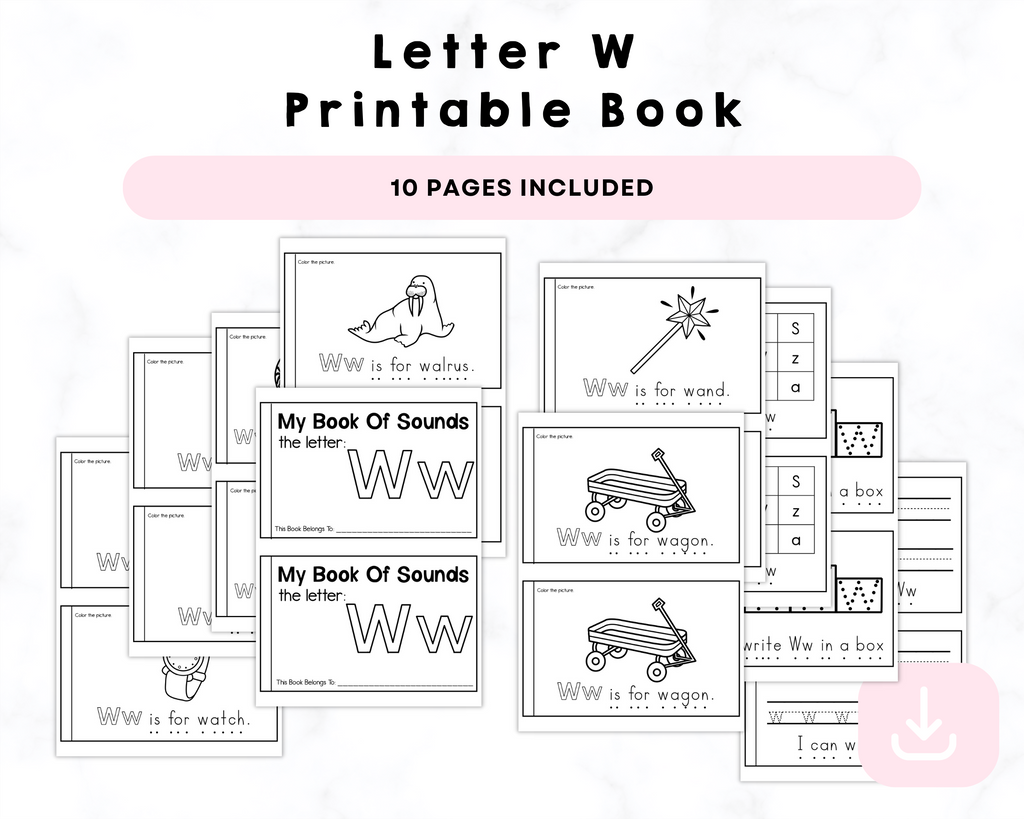 Letter W Printable Book
Letter W Printable Book
description
Embark on an educational journey with our 10-page Preschool Printable Letter W Activity Pack. Designed to engage young learners, it combines fun and learning seamlessly. Filled with activities like vibrant line tracing and coloring images, an intriguing "finding W" puzzle, and an immersive "W" sound exploration, this pack is a gateway to a world of letters for preschoolers.

🖍 *Line Tracing and Coloring Images* 🎨
From whimsical whales to wiggly worms, your child will explore creativity while developing fine motor skills as they trace and color captivating "W" words.

🧩 *Finding W Puzzle* 🧩
Embark on an exciting quest to discover hidden "W" treasures, enhancing visual perception and problem-solving skills with every find.

🔊 *W Sound Exploration* 🔊
Dive into the melodious "W" sound, nurturing phonemic awareness. From "whiskers" to "wonderful," your child will confidently pronounce the "W" sound.

This activity pack is more than just pages; it's a ticket to a world of knowledge and creativity, fostering a love for language and letters in an exciting and interactive way.

🎉 *Why Choose Our Preschool Printable Letter W Activity Pack?* 🎉
- Engaging and educational activities for letter recognition.
- Development of fine motor skills and creativity through tracing and coloring.
- Enhanced phonemic awareness through immersive "W" sound exercises.

Please note: This is a digital product. No physical items will be shipped. After purchase, you will receive a link to download your printable pack.


Contact us
Crystal & Co.
P O Box 55263
Hurst, Texas 76054
crystalandcomp@yahoo.com
Sign up to our mailing list