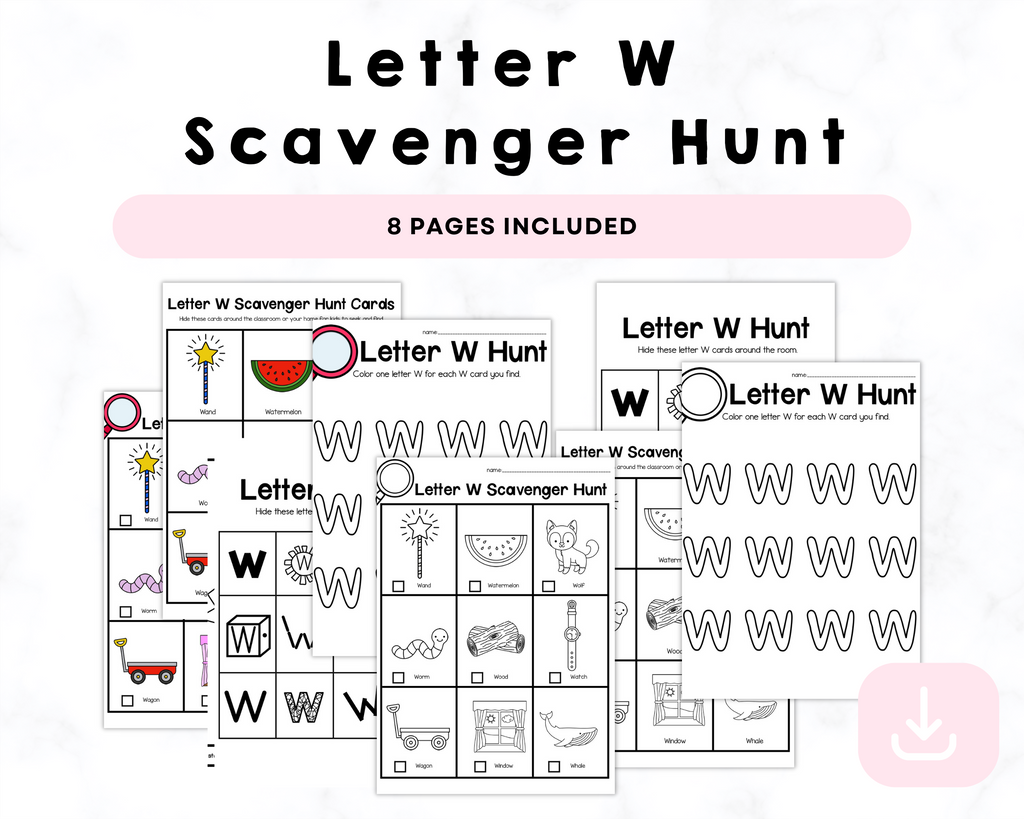 Letter W Scavenger Hunt Printables
Letter W Scavenger Hunt Printables
description
"Wondrous Letter 'W' Scavenger Hunt: 8 Pages of Fun for Little Explorers!"


Embark on an enchanting adventure with our 8-page Letter 'W' Scavenger Hunt Printables, specially crafted for your curious preschooler. Transform learning into playtime as your little one explores the whimsical world of 'W' in an engaging and educational way.

**What's Inside:**

🕵️‍♂️ **Scavenger Hunt Excitement:** Watch your child's eyes light up with joy as they dive into a scavenger hunt like never before! These 8 pages are filled with captivating 'W' scavenger cards hidden among playful illustrations. It's a quest that sparks imagination and curiosity!

🌈 **Color the 'W':** Once your little explorer discovers a 'W' scavenger card, the fun continues with a coloring activity! Let their creativity run wild as they bring the letter 'W' to life with vibrant colors. It's not just a scavenger hunt; it's a masterpiece in the making!

🔍 **Interactive Learning:** Each scavenger card is thoughtfully designed to not only entertain but also enhance cognitive skills. From finding a wiggly "worm" to coloring a whimsical "whale," every moment is a discovery.

👶 **Preschool-Friendly Design:** Our printables are tailored for little hands and growing minds. The adorable illustrations, clear instructions, and age-appropriate activities make this Letter 'W' Scavenger Hunt perfect for preschoolers ready to learn through play.

🎉 **Hours of Entertainment:** Whether it's a rainy day indoors or a sunny afternoon in the backyard, these printables are your secret weapon for endless entertainment. Keep your child engaged, excited, and smiling as they hunt, discover, and color their way through the alphabet.

Please note: This is a digital product. No physical items will be shipped. After purchase, you will receive a link to download your printable pack.


Contact us
Crystal & Co.
P O Box 55263
Hurst, Texas 76054
crystalandcomp@yahoo.com
Sign up to our mailing list