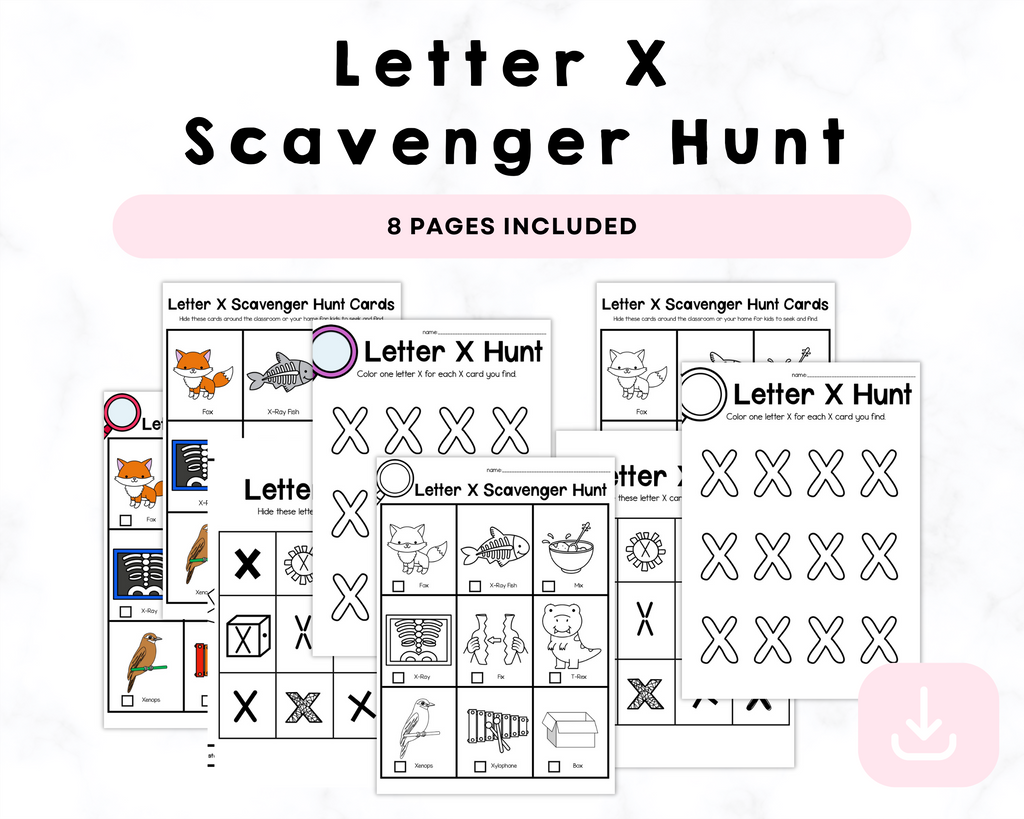 Letter X Scavenger Hunt Printables
Letter X Scavenger Hunt Printables
description
"X Marks the Spot: Letter 'X' Scavenger Hunt Printables for Little Explorers!"


Embark on an exciting letter 'X' adventure with our 8-page Scavenger Hunt Printables – a perfect blend of fun and learning for your preschooler. Designed to captivate young minds, this engaging activity will have your child eagerly searching for 'X' treasures while reinforcing essential skills.

**What's Inside:**

🗺️ **Scavenger Hunt Cards:** Your little explorer will be on a mission to find hidden 'X' scavenger cards scattered throughout the pages. From xylophones to x-ray fish, each discovery is a step closer to mastering the elusive letter 'X'!

🖍️ **Coloring Excitement:** Once the scavenger card is found, the coloring fun begins! Watch as your child brings the 'X' to life with vibrant colors, turning each discovery into a masterpiece. It's not just a hunt; it's a creative journey.

🔍 **Interactive Learning:** This scavenger hunt goes beyond the thrill of discovery. It's a dynamic way for your child to enhance observation skills, letter recognition, and fine motor abilities while having a blast.

🌈 **Visual Delights:** The printables feature charming illustrations that spark curiosity and imagination. From 'X' marks on treasure maps to whimsical images of a box filled with surprises, every page is a visual delight for your little one.

🎁 **A Treasure Trove of Learning:** Gift your child the joy of learning with this delightful scavenger hunt. The adventure of discovering 'X' is not just a game; it's a stepping stone to early literacy and exploration.

Make learning memorable and enjoyable. Order the Letter 'X' Scavenger Hunt Printables now, and let the treasure hunt begin!

Please note: This is a digital product. No physical items will be shipped. After purchase, you will receive a link to download your printable pack.


Contact us
Crystal & Co.
P O Box 55263
Hurst, Texas 76054
crystalandcomp@yahoo.com
Sign up to our mailing list