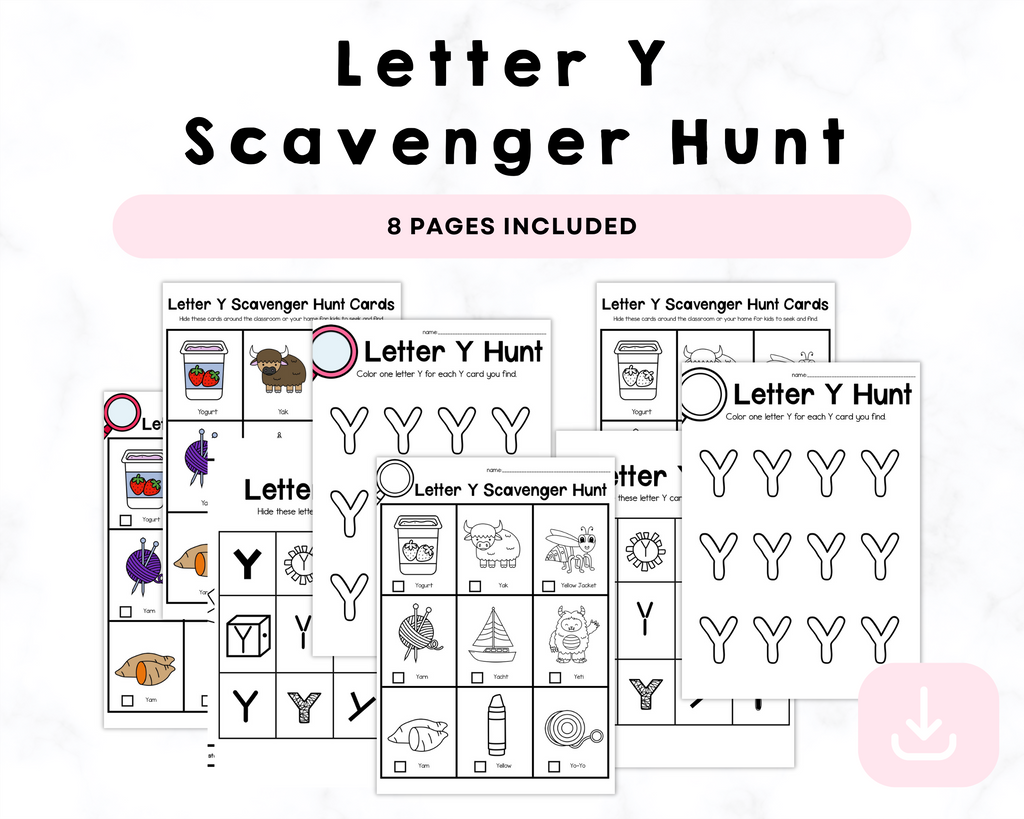 Letter Y Scavenger Hunt Printables
Letter Y Scavenger Hunt Printables
description
"Yippee for Letter 'Y' Scavenger Hunt: 8 Pages of Discovery & Coloring Fun!"


Embark on a whimsical journey with our Letter 'Y' Scavenger Hunt - an 8-page extravaganza specially crafted for inquisitive preschoolers. Dive into the world of discovery as your little one hunts for 'Y' treasures and adds a splash of color to their learning adventure.

**What Awaits Your Young Explorer:**

🔍 **Scavenger Hunt Cards:** Unleash the thrill of exploration with our vibrant scavenger hunt cards. Each page is a new quest, encouraging your child to seek out and identify objects that begin with the marvelous letter 'Y.' From yachts to yummy yams, the possibilities are endless!

🖍️ **Coloring Delight:** The excitement doesn't stop there! Once the scavenger card is found, your child gets to unleash their creativity by coloring the letter 'Y' on each page. It's a delightful combination of adventure and artistry that makes learning an absolute joy.

👧👦 **Perfect for Little Explorers:** Tailored for preschoolers, our Letter 'Y' Scavenger Hunt is designed to captivate young minds and keep them engaged. It's the ideal blend of education and entertainment, making it a must-have for every parent and educator.

🏆 **Achievement Unlocked:** Celebrate each discovery as your child conquers the scavenger hunt, building confidence and a love for learning. It's a small victory that lays the foundation for a lifetime of curiosity and exploration.

🛒 **Order Now:** Elevate your preschooler's learning experience with the Letter 'Y' Scavenger Hunt printables. As a dropshipper on Shopify, you're providing not just a product, but a gateway to a world of wonder. Make learning memorable - order now and let the scavenger hunt begin!


Please note: This is a digital product. No physical items will be shipped. After purchase, you will receive a link to download your printable pack.

Contact us
Crystal & Co.
P O Box 55263
Hurst, Texas 76054
crystalandcomp@yahoo.com
Sign up to our mailing list