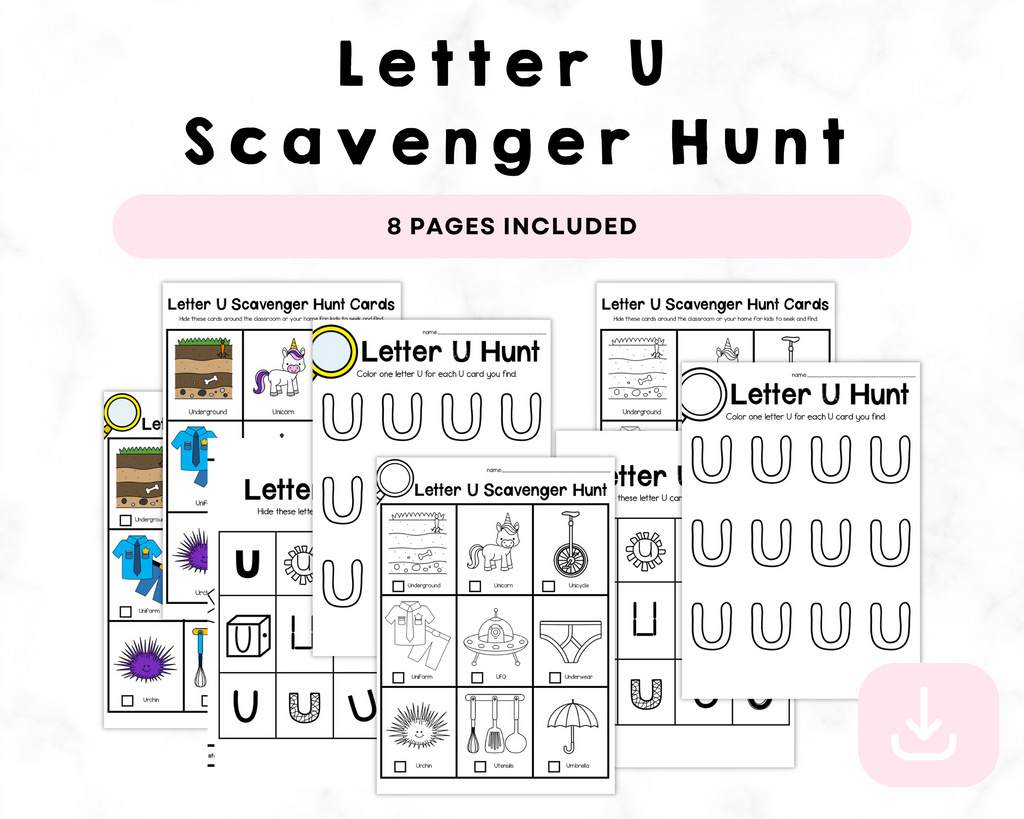 Letter U Scavenger Hunt Printables
Letter U Scavenger Hunt Printables
description
"Letter U Scavenger Hunt for Little Explorers: 8 Fun Pages of Discovery!"


Unleash the joy of learning with our Letter U Scavenger Hunt Printables! Perfect for preschoolers, this 8-page adventure is designed to make learning the letter 'U' an exciting and interactive experience.

**What's Inside:**

🔍 **Scavenger Cards:** Your little one will love the thrill of the hunt! Our scavenger hunt includes carefully crafted cards featuring 'U' words. From umbrellas to unicorns, watch as your child eagerly searches for and discovers each one.

🖍️ **Coloring Fun:** Once they find the scavenger card, the excitement continues with coloring! Each page includes a large, bold letter 'U' for your little artist to fill with their favorite colors. It's a delightful way to reinforce letter recognition and fine motor skills.

🌈 **Simple and Engaging:**  These printables are easy to use, providing hours of entertainment while subtly introducing the letter 'U' to your child's expanding world.

📚 **Educational Exploration:** Foster a love for learning as your preschooler engages in this educational scavenger hunt. With a focus on simplicity and fun, these printables make it easy for you to instill early literacy skills in your child.

Make learning 'U'nique and unforgettable with our Letter U Scavenger Hunt Printables. Add this delightful adventure to your cart now and watch as your little one explores, discovers, and colors their way to letter mastery! 


Please note: This is a digital product. No physical items will be shipped. After purchase, you will receive a link to download your printable pack.

Contact us
Crystal & Co.
P O Box 55263
Hurst, Texas 76054
crystalandcomp@yahoo.com
Sign up to our mailing list