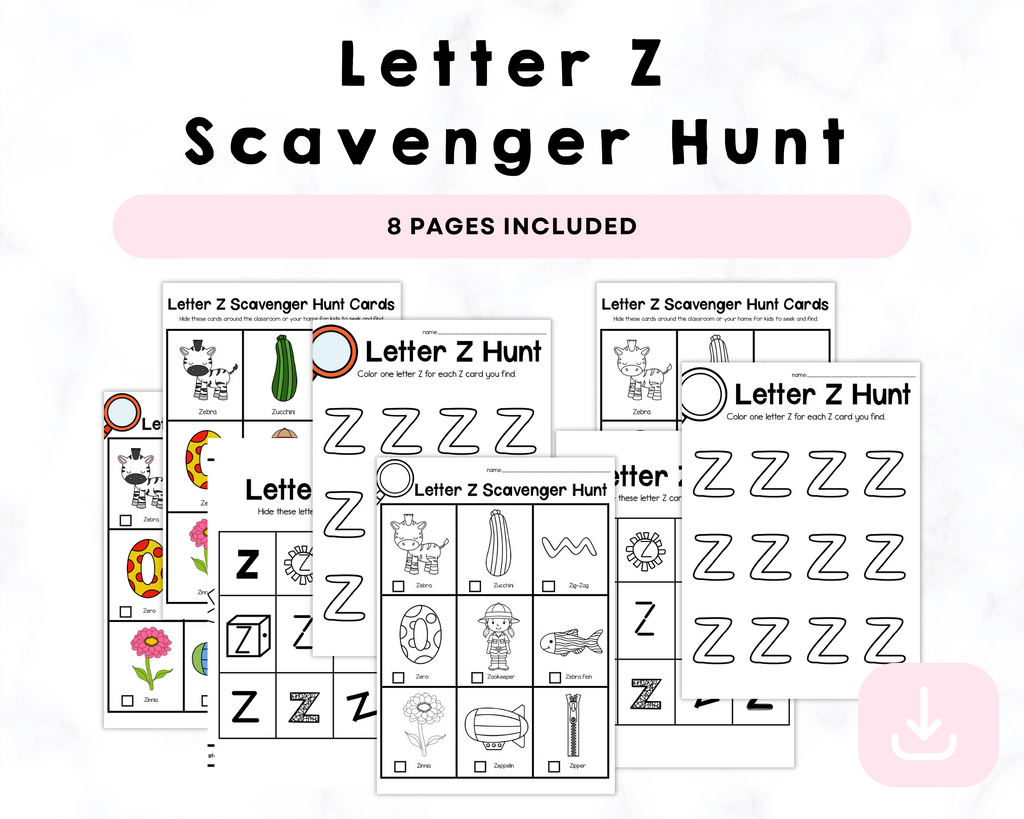 Letter Z Scavenger Hunt Printables
Letter Z Scavenger Hunt Printables
description
"Zigzag Letter 'Z' Scavenger Hunt: 8 Pages of Thrilling Discovery for Preschoolers!"

Embark on an enchanting quest with our 8-page Letter 'Z' Scavenger Hunt printables—crafted to captivate and educate your preschooler in the world of letters and exploration.

**What's Inside:**

🔍 **Scavenger Cards Galore:** The adventure begins with a set of whimsical scavenger cards scattered throughout the pages, each featuring delightful 'Z' words waiting to be discovered. From "zebra" to "zipper," your little one will revel in the joy of finding and identifying the treasures hidden within.

🎨 **Coloring Magic:** Once the scavenger card is found, the excitement continues as your preschooler gets to bring the letter 'Z' to life with vibrant coloring! Watch as they add their personal touch to this zigzagging letter, reinforcing letter recognition and fine motor skills in a playful, creative way.

👶 **Preschool-Friendly Design:** Designed with your little one in mind, these printables feature a preschool-friendly layout, ensuring that every moment spent on the scavenger hunt is both entertaining and educational.

🌈 **Endless Fun:** Whether it's finding the elusive "zeppelin" or coloring the zesty "zucchini," the Letter 'Z' Scavenger Hunt promises endless fun and learning. It's a wonderful addition to your preschooler's journey into the magical world of letters.

Make learning a joyous adventure for your child with our Letter 'Z' Scavenger Hunt. Order now and watch as their eyes light up with excitement at the discovery of each 'Z' treasure! Learning has never been this much fun.


Please note: This is a digital product. No physical items will be shipped. After purchase, you will receive a link to download your printable pack.

Contact us
Crystal & Co.
P O Box 55263
Hurst, Texas 76054
crystalandcomp@yahoo.com
Sign up to our mailing list